Currently, the following United award (Newark to London, returning Paris to Newark) would cost 60k miles in economy.

Add in a stopover in Newark on the return, and a later one way trip to Jamaica and the price drops 2,500 miles to only 57,500 miles in economy!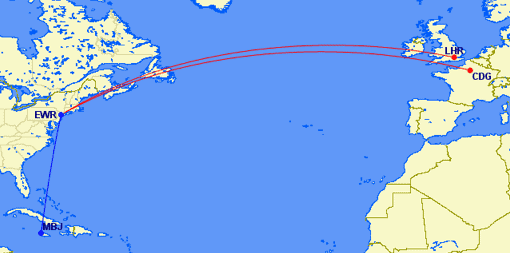 Unfortunately, this deal I first wrote about last year dies in six weeks! I'm a bit sad this deal will be dying even though I've never used it, and it's pretty niche.
Learn more about negative priced one ways and how I killed them!
In mid-2012, I wrote in an article about Free Oneways on United Awards:
—————————————————————————
Negative Price Oneways
What about to the Caribbean? The Caribbean is also a separate zone from the continental US for determining miles needed. But amazingly on the United chart, it actually costs fewer miles to get from the Caribbean to Europe than from the continental US to Europe.
This is shocking considering the way to get from the Caribbean to Europe on the Star Alliance is by connecting through the US. Here's a sample free oneway from the Caribbean to the US tacked on before the main European award. "Free" is a bit of a misnomer though, since adding the oneway actually decreased the price of the award by 2,500 miles!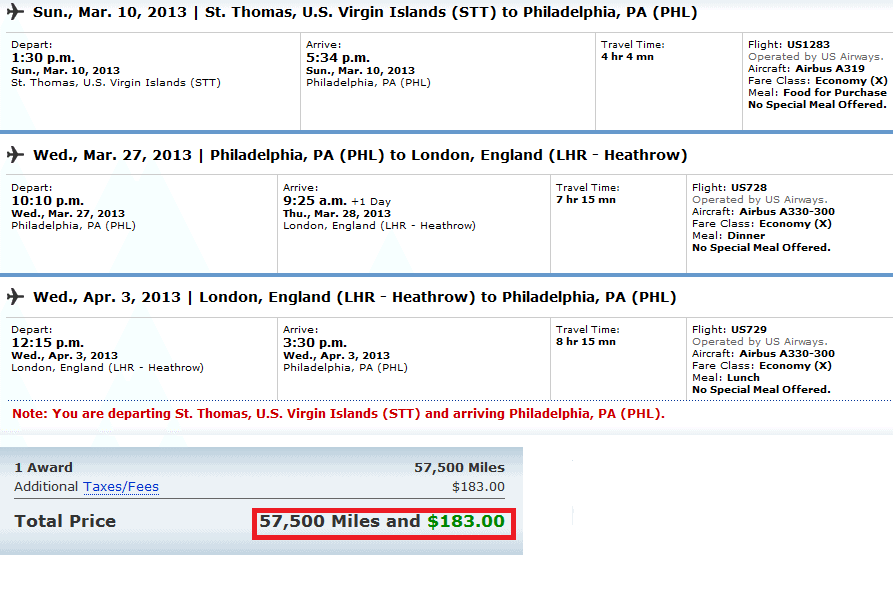 Take off the oneway from St. Thomas to Philly, and you pay 2,500 more miles.
—————————————————————————
Well the new award chart for bookings made February 1, 2014 or later has "corrected" the anomaly of Caribbean-to-Europe-via-USA being cheaper than USA-to-Europe,

If it's too small for you to read, the economy price from the mainland US to Europe will still be 30,000 miles per direction.
The economy price from the Caribbean to Europe will rise from 27,500 miles per direction to 35,000 miles per direction.
The title of the post is facetious. I don't know why United is making the change in price, though I doubt it's because of my post about this deal last year.
I assume that when United decided to devalue its award chart, employees looked at every single price and found the ones where they thought they "had made a mistake" last time. For instance, USA-Southeast Asia in economy is currently an incredible 32,500 miles per direction. It is rising to 40,000 miles per direction without many posts trumpeting how cheap the old price was on blogs.
If I brought the old deal to United's attention though, I am sorry to the few who would have found the deal on their own, and I hope the many I have shared it with got a chance to book it or will book it in the next six weeks before the United devaluation kicks in for awards booked February 1, 2014 or later.
------------------------------------------------------------
Editorial Disclaimer: The editorial content is not provided or commissioned by the credit card issuers. Opinions expressed here are author's alone, not those of the credit card issuers, and have not been reviewed, approved or otherwise endorsed by the credit card issuers.
If you liked this post, sign up to receive one free daily email every morning with all of the day's posts! You can also follow MileValue on Twitter and Facebook.
Earn 50,000 bonus points (worth $800 in American Airlines flights) after spending $3,000 in the first three months on the Citi Prestige® Card. Plus get a $250 Air Travel Credit each calendar year, free airport lounge access worldwide, and your fourth night free on hotel stays. Why I got the card.