In my giveaway last week of Express Passes into Australia, I mentioned that you can also enter Australia quickly if you have Global Entry. I want to give a little more information about the process because it's another reason to get Global Entry in you haven't already. See Why and How I Got Global Entry.
The process is very simple. To be able to use Australia's SmartGate entry program, you need to be 16 years or older, have Global Entry, and have a USA ePassport. All USA passports issued after 8/2007 are ePassports.
To use SmartGate, simply find the SmartGate kiosk upon arrival, which sounds identical to a Global Entry kiosk. After answering the declaration questions at the kiosk, you get a SmartGate ticket.
Next you use the ticket to access the SmartGate. A camera compares your photo to the digital photo in your ePassport. Go through the gate, collect your bags, and head to customs.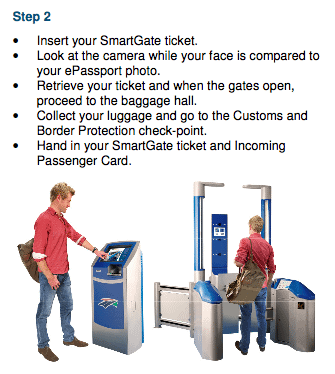 The whole process looks really simple.
The SmartGate and Global Entry combo does not change the fact that you have to apply online for a visa before traveling to Australia and pay a $20 fee.
This is another great reason to get Global Entry, which gets me from airplane door to curb at LAX in seven minutes. Global Entry costs $100. The process includes a cumbersome application form and a twenty minuted interview at an international airport.
The $100 fee is rebated if you pay with your American Express Platinum. The best AMEX Platinum offer right now is the Mercedes-Benz version of the card. (Don't worry; you don't have to drive a German car to get the card.)
The full SmartGate information is here.
Does anyone have any experience with SmartGate?
---
Editorial Disclaimer: The editorial content is not provided or commissioned by the credit card issuers. Opinions expressed here are author's alone, not those of the credit card issuers, and have not been reviewed, approved or otherwise endorsed by the credit card issuers.
If you liked this post, sign up to receive one free daily email every morning with all of the day's posts! You can also follow MileValue on Twitter and Facebook.