I earn a commission for some links on this blog. Citi is a MileValue partner.
Previously:
I have finally decided where to redeem my two free nights that I got from opening a Citi® Hilton HHonors™  Reserve Card. I am going to use them for a weekend stay at the Rome Cavalieri Waldorf Astoria in June.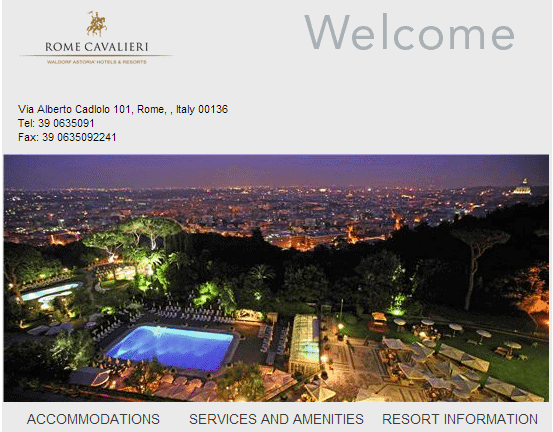 As much as I would have loved to used my two free weekend nights for a stay in Asia or the South Pacific, the amount of travel it takes to get to those locations was a huge deterrent to that plan. Europe seemed like a much more feasible destination. Thank you to all the readers who commented with their reviews, suggestions, and opinions on where I should stay!
The Property
The Rome Cavalieri Waldorf Astoria is a Category 9 hotel, and the King Deluxe room that I am staying at (for free) is going for $557/night the weekend that I am staying there, or 80,000 HHonors points. I could never have afforded spending $1,100+ on a hotel for the weekend, so the free weekend nights have put an otherwise unattainable luxury within my reach.
Why did I pick the Rome Cavalieri Waldorf Astoria? What was the booking process?