I earn a commission for some links on this blog. Citi is a MileValue partner.
American Airlines' AAdvantage eShopping mall just sent me the following: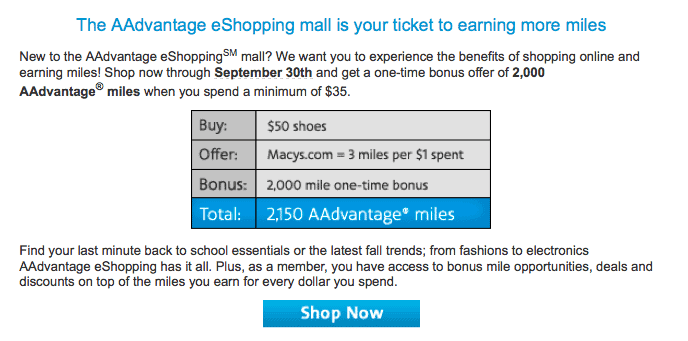 If I spend $35 of more, I get 2,000 bonus AAdvantage miles on top of the normal mileage earning from the mall. Since I value 2,000 bonus AAdvantage miles at $35.40, it's like being rebated my $35 worth of shopping in miles. Basically free shopping.
What terms and conditions are there? Is it open to everyone?
I clicked on the terms and conditions in the email and saw this.

It looks like you have to go through the email to earn the bonus miles, so if you didn't get the email, you may be out of luck. Check your spam box for emails from "americanairlines@aadvantage.email.aa.com".
Shopping must be completed by 9/30, and you can expect to see the miles two months after your purchase.
This is a fantastic offer if you got it. I'll be taking advantage of mine for sure.