I earn a commission for some links on this blog. Citi is a MileValue partner.
Cathay Pacific is considering offering more award space to its own club members than to partner airlines like American Airlines.
Cathay Pacific is to set aside more free seats for its seasoned frequent fliers, under the latest proposal to revamp the award-winning airline's loyalty scheme.
The plan is to slash the number of free air tickets available for partner airlines and to reallocate those to Cathay's own Marco Polo Club members, sources close to the ongoing review say.
Right now Cathay Pacific First Class and Business Class award space is wide open to American Airlines members if you know how far out to search for each. American Airlines charges a ridiculously low price for the award space considering some of the flights are 16 hours long, and you can connect throughout Southeast Asia for zero extra miles:
55,000 AA miles one way in Cathay Pacific Business Class between the United States and Hong Kong/SE Asia
67,500 AA miles one way in Cathay Pacific First Class between the United States and Hong Kong/SE Asia
Cathay Pacific Business Class gets rave reviews, and Cathay Pacific First Class is one of the nicest in the world. Here's my trip report of flying New York to Hong Kong in First Class last year. I was particularly impressed by the humungous bed, the ability to customize my meal so much, and the desire of the flight attendants to make it my best flight ever.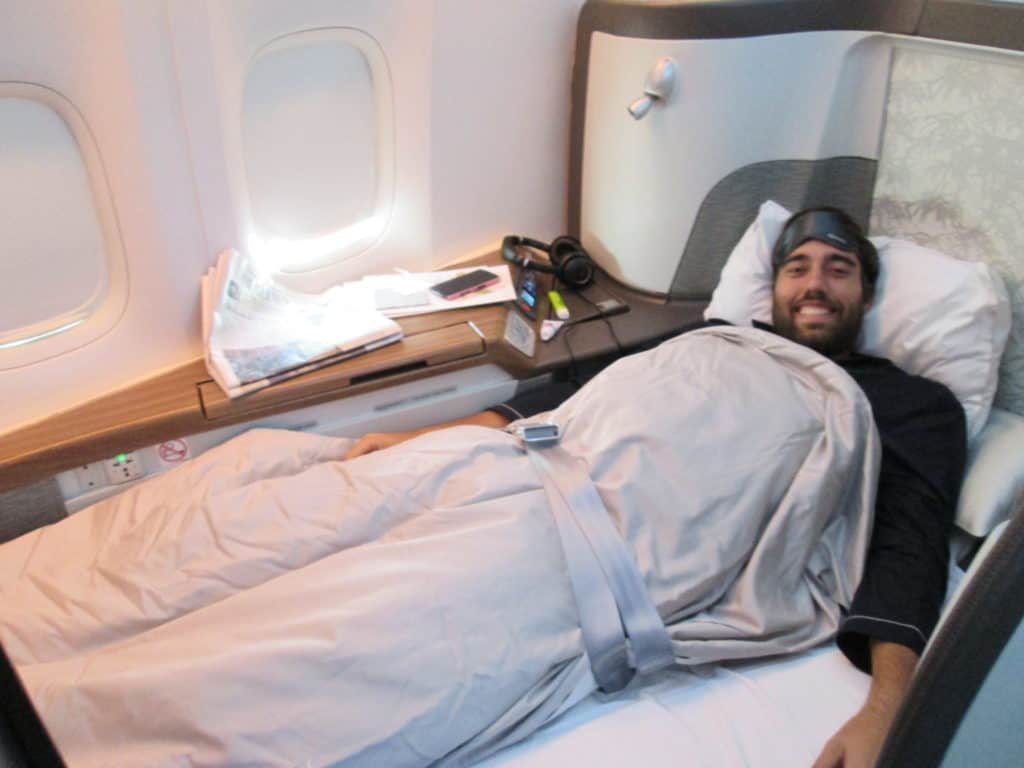 So What about Cathay Pacific's New Proposal?
Cathay Pacific's new proposal to withhold some award space looks aimed squarely at American Airlines, which was recently offering 50,000 bonus miles on its personal and business cards at the same time as offering 50,000 miles on the US Airways card.
At present, Cathay lets clients of partner airlines book flights using air miles accrued through their own flier programmes. But these passengers can redeem Cathay flights at much cheaper rates than Marco Polo Club members, putting its own privileged customers at a disadvantage.
One such partner carrier is American Airlines, which at the same time gives away tens of millions of free miles to flyers each year via credit card schemes.
I get Cathay Pacific's complaint. It really doesn't make sense for them to have more AAdvantage members than Marco Polo Club members booking Cathay Pacific awards. And I understand why they're feeling confident enough to consider changes now that would end that.
The sources say Cathay believes it is time to stop allowing external redemptions when the airline is capable of filling aircraft with paid passengers – boosting long-term profitability.
But I don't think the methods make sense. Instead of blocking space to partners like Swiss does with its First Class award space, and Singapore does with its Business and First Class seats, I'd prefer Cathay Pacific to do nothing.
According to the experts and me, we're only a few months away from American Airlines announcing an increase in the number of miles needed to book an award on Cathay Pacific. By December 9, 2015, we expect booking Cathay Pacific Business Class awards (Asia 2) to rise more than 10,000 miles to 65,000 miles one way and First Class awards to rise more than 13,000 miles to 81,000 miles one way.
Such an increase would lower the number of awards booked by partners, solving or, at least, ameliorating the problem.
If Cathay Pacific wanted to do more, it could increase the number of dollars it charges American Airlines for American Airlines award bookings. This could make the deal better for Cathay Pacific, and could further limit AAdvantage award bookings if it caused American Airlines to increase the miles price of Cathay Pacific awards further.
What I really hope to avoid is a complete blocking of Cathay Pacific First Class or Business Class space when using American Airlines miles. More palatable but still very bad would be a partial blockage of that award space when using American Airlines miles.
Bottom Line
Have you dreamed of using your American Airlines miles to fly Cathay Pacific to Asia to fly some of the world's nicest First and Business Class prices for very few miles? Book your trip as soon as possible.
Cathay Pacific is considering limiting the space AAdvantage members can book. And if it doesn't go through with that proposal, American Airlines is likely to jack up the prices of these awards by early next year.
————————————————————————————————————
Never miss a post again! Follow MileValue on Twitter and Facebook. And sign up to receive one free daily email every morning with all of the day's posts!
Earn 50,000 bonus points (worth $800 in American Airlines flights) after spending $3,000 in the first three months on the Citi Prestige® Card. Plus get an additional $500 in free airfare on any airline in the first 12 months plus free airport lounge access worldwide for only a $450 annual fee. Why I got the card.