I earn a commission for some links on this blog. Citi is a MileValue partner.
Emirates First Class is now bookable with Alaska Airlines miles again! A search today for May:
Click on "Nonstop" or "1 stop" to see flight details for each flight. The aircraft is listed on the pop up. Emirates Flight 204 is served by an A380, which means showers are onboard.
In case you missed the saga, for a while, Emirates First Class was only bookable on alaskaair.com for flights through March 28, 2015. If you wanted to book Emirates First Class for dates beyond March 28, you had to call Alaska and ask the agent to use the 'old system' to book your award. Then Alaska Airlines told their phone agents not to use the 'old system,' so we couldn't book Emirates First Class at all. Alaska told me they were looking for a way to bring the First Class space back online, and now they have.
Guide to Booking Emirates First Class with Alaska Airlines Miles
Why Alaska Miles
Why Emirates First Class a Big Deal (The Product, Including an Onboard Shower)
How Many Miles You Need (Award Chart)
How to Search & Book
Maximizing the Award (Stopovers in Dubai & Booking Three Emirates A380 Segments on Single Award)
Why Alaska Miles
Alaska Airlines has a number of incredible partners despite not being a member of any of the three airline alliances. Alaska miles are perfect for Emirates awards because:
Alaska doesn't collect fuel surcharges on Emirates awards
Alaska's chart for Emirates awards is fair, though not exactly cheap
Alaska allows stopovers on one way awards, so you can see Dubai for a few days then continue your trip
Why Emirates First Class Is a Big Deal
Being able to book Emirates First Class with Alaska miles is a BIG DEAL because Emirates First Class on the A380 is one of the nicest products in the sky, and until recently, its A380 was the only commercial airline that offered First Class passengers the opportunity to shower onboard. (Etihad A380 First Class also has a shower now.)
I flew Emirates First Class on a 3.5 hour hop from Auckland to Sydney and was blown away. Here is the first part of that trip report, and my video inside the shower spa.
How Many Miles You Need
Alaska charges 90,000 miles one way in First Class to Dubai and 100,000 miles one way to Africa, Asia, or Europe via Dubai.
Unfortunately you cannot use Alaska miles for all Emirates routes. Your award needs to start or end in North America and cannot go to Australia.
Alaska does not collect fuel surcharges on Emirates awards. You just pay low government taxes + $12.50 per one way partner award.
How to Search & Book
You can search alaskaair.com for Emirates awards.
The award search is completely intuitive and offers the chance to look at month-by-month calendars. Days that say 90k definitely have Emirates First Class space between New York and Dubai. Days that say 80k may.
There are two related drawbacks of the alaskaair.com search.
You cannot search routes that don't touch North America–for instance Dubai to Seoul.
On a multi-city search, it can be cumbersome to figure out two days that both have award space because instead of letting you search segment one first and then segment two, it makes you search both at once.
These problems are solved by searching Emirates award space on Expert Flyer, a paid service, that I explained how to search here.
The fare bucket to search is Z for First Class. This is where it gets a little bit weird.
If Z = 1, Alaska may have access to 1 award seat in Emirates First Class.
If Z = 2, Alaska may have access to 2 award seats in Emirates First Class.
If Z = 2, Alaska definitely has access to at least 1 award seat in Emirates First Class.
If I need to search for segments that don't include North America, I go to Expert Flyer and search dates with Z = 2.
In these search results, you can see that the Emirates flight from Houston to Dubai on April 19 has Z = 2, but on April 20 only has Z = 1. That means Alaska definitely has at least one award seat on the Emirates flight for April 19.
Once you've found your award space on alaskaair.com and Expert Flyer, book on alaskaair.com to avoid a phone fee.
Maximizing Your Alaska Award in Emirates First Class
Stopovers
One stopover is allowed on one way Alaska awards for as long as you'd like, subject to the fact that you can only book up to 11 months in advance. Here is an example with a 32 hour stopover. Make it a week or a month if you'd like.
The easiest stopover point by far will be Dubai, but a stopover in Seattle, Bangkok, and a few other cities is possible.
Getting the Most Time in the Emirates A380
Your Alaska Airlines award on Emirates has to start or end in the United States and pass through Dubai.
The longest flight from the United States to Dubai is from Los Angeles at 15hr50min. Here are the other destinations, though Orlando, Boston, and Seattle are served by 777s.
After a few days in Dubai, you can continue on some long flights up to 10 hours. Unfortunately you cannot use Alaska miles to fly Emirates to Australia or New Zealand, so you are limited to connections to Europe, Africa, and Asia. Here are all the places Emirates flies from Dubai.
Here are some sample legal routes.
A continuation to Southeast Asia like Bangkok is shorter than I was expecting. It's actually shorter than backtracking to London.
The farthest flight shown is to Tokyo, but it is operated by shower-less 777s. Johannesburg also is flown by 777s.
I think the farthest flight from Dubai to Asia, Africa, or Europe served by an A380 is to Seoul with the second farthest to Hong Kong. Correct me in the comments if I'm wrong.
Maximizing Your Segments in Emirates First Class
Each segment of Emirates First Class comes with its own pleasures, including lounge access and five minutes worth of water in the shower.
You can get three segments on a single award if you fly to Hong Kong via Dubai and Bangkok. The Bangkok-to-Hong Kong segment is less than three hours, but you can enjoy a shower on it as well. Here's an award with 25 hours in Emirates First Class on an A380, three showers, and a three-day stopover in Dubai for 100,000 Alaska miles + $38.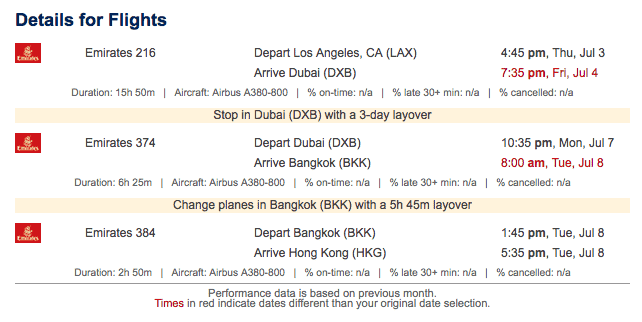 Here's the same award, but the stopover has been moved to Bangkok.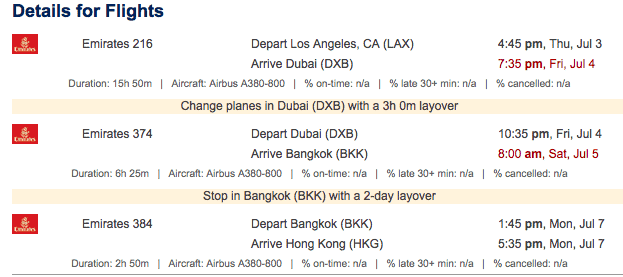 Other Example Itineraries
Here are all the Emirates A380 routes.
I priced out awards to Africa, Asia, and Europe on Alaska's website and confirmed by clicking the words "1 stop" or "2 stops" which aircraft is operating each flight.
Los Angeles to Dubai to Hong Kong (23hr45min in A380 First)
Los Angeles to Dubai to London (23hr20min in A380 First)
Los Angeles to Dubai to Cape Town (15hr50min in A380 First and 9hr50min in 777-300ER First)
Getting Alaska Airlines Miles
There are four credit cards that earn Alaska Airlines miles. The Alaska Airlines cards earn the miles directly, and the Starwood cards earn Starpoints which transfer 1:1 to Alaska miles with 5,000 bonus miles for every 20,000 Starpoints transferred.
Starwood Preferred Guest® Credit Card from American Express
Starwood Preferred Guest® Business Credit Card from American Express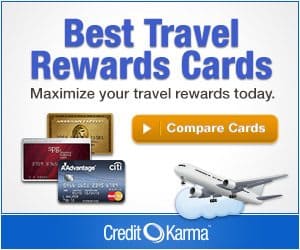 The Alaska Airlines personal card offers 25,000 bonus miles on account opening (not even first purchase) and the business card is good for another 25,000 miles after first purchase. Both have a $75 annual that is NOT waived. I'm gotten both bonuses multiple times without having to close my old Alaska cards.
The Starwood cards currently offer 25,000 bonus Starpoints each after spending $5,000 in the first six months.
Recap
Emirates First Class is now bookable again with Alaska miles on alaskaair.com. Book your one way award to Europe, Asia, or Africa with a stopover in Dubai for 100,000 miles one way + taxes + $12.50.
If you want to maximize segments, you can route through Dubai and Bangkok to Hong Kong. If you want to maximize flight time on an A380, you can fly from Los Angeles to Dubai to Seoul. Or you can maximize the destination.
Alaska has no cancellation fee or change fee more than 60 days before departure and a manageable cancellation fee of $125 after that.
Book your ticket with your Arrival Plus and you can then remove the taxes and fees from your statement by redeeming Arrival miles.
Are you going to book Emirates First Class now?
————————————————————————————————————
Never miss a post again! Follow MileValue on Twitter and Facebook. And sign up to receive one free daily email every morning with all of the day's posts!
Earn up to 20 free hotel nights after meeting spending $2,500 in the first 90 days on the Club Carlson Visa. There are several Club Carlson properties in Dubai for a two-night stay.