Through February 8, 2016, you can buy Hilton HHonors points with an 80% bonus.
Hilton points normally cost 1 cent each. With the 80% bonus, the price drops to 0.56 cents per point.
If you buy the maximum 80,000 Hilton points today, you'll receive 144,000 points for $800. With the bonus, you can buy any amount of points from 1,800 to 144,000 in 1,800 point increments.
This is not the best promotion we've seen to buy Hilton points. In June 2015, we saw a 100% bonus on buy Hilton points brining the price down to 0.5 cents.
When to Buy (Math)
Is buying Hilton points for 0.56 cents each a good deal?
Here is the Hilton award chart.
I would not buy Hilton points speculatively for 0.56 cents each because I value them at 0.4 cents each. But if you have an immediate high value redemption in mind, buying points can be a good deal.
For instance, at these prices, Category 1 properties would be $28 per night. Category 2 properties would be $56. Top tier Category 10 properties would be $389 to $528 per night. For all these categories, you can get a big discount off the retail nightly rate if you travel at a peak time.
Check out: Free Spreadsheet to Download of Category 1, 2, 9, and 10 Hilton Properties Plus the Only Two Good Hilton Strategies
Consult the Hilton award chart to see how many points you'd need to book the hotel you want for a night. Search the dates you'd like to stay to see the paid price. If buying the points makes sense, there is award space on your dates, and you are ready to redeem now, buy the points.
Also keep in mind, that you don't need to buy points when you can just open Hilton branded credit cards for free stays.
Right now, the Citi® Hilton HHonors™ Reserve Card comes with Two Free Weekend Nights (Friday, Saturday, or Sunday) worldwide at top tier Hiltons after spending $2,500 in four months. The card also comes with free Hilton Gold Status (upgraded internet, breakfast) as long as you hold the card. All that more than offsets the $95 annual fee.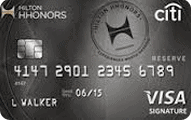 Buy Hilton Points with These Credit Cards
Hilton points purchases are processed by points.com, so the purchases will not code as a bonus "travel" or "hotel" purchase on any credit card. You will not earn category bonuses from the purchase of Hilton points.
That means you should make the purchase with whatever card you need to meet a minimum spending requirement on.
Bottom Line
You can buy 1,800 to 144,000 Hilton points for 0.56 cents each. That's too high to buy speculatively, but there are a lot of immediate awards you can book where that price offers great value.
Application Link: Citi® Hilton HHonors™ Reserve Card with Two Free Nights worldwide at top tier Hiltons after spending $2,500 in four months
------------------------------------------------------------
Editorial Disclaimer: The editorial content is not provided or commissioned by the credit card issuers. Opinions expressed here are author's alone, not those of the credit card issuers, and have not been reviewed, approved or otherwise endorsed by the credit card issuers.
If you liked this post, sign up to receive one free daily email every morning with all of the day's posts! You can also follow MileValue on Twitter and Facebook.
Earn 50,000 bonus points (worth $800 in American Airlines flights) after spending $3,000 in the first three months on the Citi Prestige® Card. Plus get a $250 Air Travel Credit each calendar year, free airport lounge access worldwide, and your fourth night free on hotel stays. Why I got the card.