I earn a commission for some links on this blog. Citi is a MileValue partner.
Update at 3:30 PM ET: The 250k and 100k deals have sold out. 150k remains.
Update at 1:40 PM ET: These deals have not sold out.
Today is the fifth day of five weeks of discounted travel packages from the US Travel Association called Daily Getaways. Every weekday at 1 PM ET, a discounted travel package or packages will go on sale and will often sell out in a few minutes. Every weekend I'll preview the deals for the next week, and the morning of interesting deals, I'll have a full write up.
Today only, Hilton HHonors points are being sold for 0.5 cents each.
Today's deal is:
100,000 Hilton HHonors points for $500 (0.5 cents each), 160 packages available
150,000 Hilton HHonors points for $750 (0.5 cents each), 200 packages available
250,000 Hilton HHonors points for $1,250 (0.5 cents each), 200 packages available
You can buy one of each package, three total. If you bought the maximum, you would be getting 500k Club Carlson points for $2,500.
Club Carlson points can be used at over 4,100 hotels with the following brand names:
Canopy by Hilton
Curio – A Collection by Hilton
How far do Hilton points go? Here's the award chart: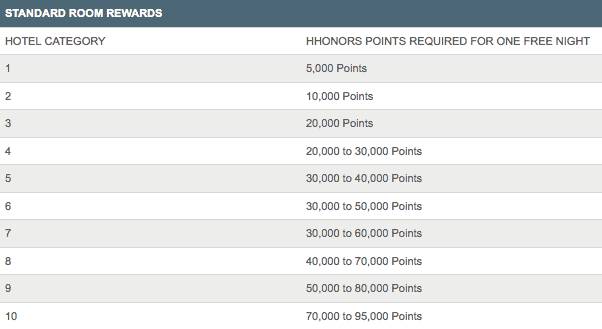 A Category 1 hotel costs 5,000 points, which is $25 if you buy points for 0.5 cents each. Needless to say $25 is a great deal for a hotel night anywhere in the world, though the Category 1 properties are in generally uninspiring places. Super reader Jeremy has created the most valuable spreadsheet imaginable for the Hilton HHonors program that you can download for free here, which lists all Category 1, 2, 9, and 10 properties. (Why 9 and 10? See The Only Two Good Hilton Strategies.)
My Plan
I'm sitting out this deal. Check out Hilton's PDF of all its hotels' categories. Most of the places I would stay at are Categories 3-7, which would cost $100 to $300 per night at these prices. Maybe buying points gets a discount over the retail price, but I can stay at airbnb properties for much cheaper and enjoy my stay more.
Will This Deal Sell Out?
The last two years, at approximately the same prices, Hilton points have not sold out.
Purchasing the Packages
To maximize your chances of getting in on the deal, I recommend using a site like whattimeisit.com to figure out the official time. The sale starts at 1 PM ET / 10 AM PT / 7 AM HT. This year's sales all started on time to the second. Keep refreshing the deal page until you see the BUY NOW button replace the SEE DETAILS button.
This is what happens if you try to purchase something when all quantities are already in someone's cart.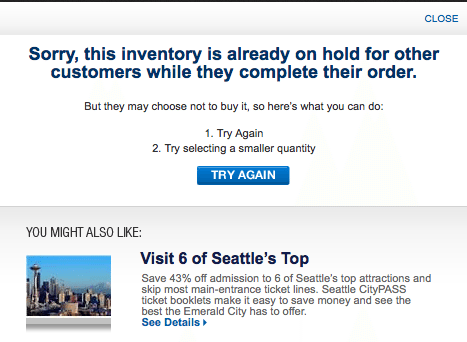 This doesn't mean the deal is sold out. If someone doesn't complete his purchase, that quantity will immediately become available for someone else. Keep checking until the dreaded "Sold Out" appears.
Key Links
Do you plan to buy Hilton HHonors points? Post your successful or failed attempt in the comments, so we can gauge how quick you had to be to snag a deal.
————————————————————————————————————
Never miss a post again! Follow MileValue on Twitter and Facebook. And sign up to receive one free daily email every morning with all of the day's posts!
Earn up to 20 free hotel nights after meeting spending $2,500 in the first 90 days on the Club Carlson Visa.