I earn a commission for some links on this blog. Citi is a MileValue partner.
The brand new PointBreaks list allows us to book hotel rooms through May 31, 2015 for $35 per night.
Even if you've read other posts on the list, read this. I've honed my strategy for getting $35 per night rooms quite a bit, and I want to share it, so everyone can have access to the best practices.
Plus I've stayed in PointBreaks hotels several times in the last few years, so I want to say a word on their quality.
This post will tell you how to book any hotel on the list of IHG Reward Club's PointBreaks hotels for at most $35 per night, even the ones that ordinarily cost $200 or more per night like InterContinental hotels.
What's my strategy to make the most of PointBreaks?

What are the top properties on the newest PointBreaks list?

What change to PointBreaks rules has changed my booking strategy?
IHG Rewards Club PointBreaks
IHG Rewards Club is the loyalty program for InterContinental, Crowne Plaza, Hotel Indigo, Holiday Inn, Holiday Inn Express, Candlewood Suites, and Staybridge Suites.
As we covered here, IHG Rewards Club normally charges 10,000 to 50,000 points for a free night depending on the property. But every few months, IHG Rewards Club releases a list of a select few hotels where you can stay for 5,000 points per night. That's a 90% discount on some hotels!
The new list of PointBreaks hotels is good for stays now through 5/31/15.
We can stay at any hotel on the PointBreaks list for $35 just by using one loophole!
The basic premise is that IHG Rewards Club lets you buy 10,000 points for $70, which is 0.7 cents per point.
Problem #1: Not every hotel is on the PointBreaks list.
Solution: There is no solution for this problem.
When a new list comes out, I check its end date then consult my travel schedule to figure out where I'll be between now and then that I might want a hotel. I also consider trips I haven't planned, but have been mulling. And finally I look for the incredible properties that normally cost 50,000 miles to see if I want to take an impromptu trip.
I note all the hotels that I might want to stay at.
Problem #2: Not every night is available at hotels that are on the list–and what availability there is can disappear quickly.
Solution: Book award space now.
This leads to Problem #3.

Problem #3: I may want to change my plans later, but I may have to cancel the entire award to do that, costing me the chance at 5,000 point ($35) nights.
Solution: Book awards as a series of one-night stays.
The solution used to be to book awards as a series of one-night stays then later cancel the ones you didn't need. That is now prohibited by the terms and conditions, which say:
"Due to the limited availability, each member may only book two PointBreaks® Reward Nights reservations per hotel during the special offer time period."
Now you have to make your best guess for when you'll want to stay at a hotel. Or you can always make two reservations each from multiple accounts.
If you book more nights than you need, I also think it's possible that by calling IHG or the hotel, you can trim some dates off a previous booking, but I can't say for sure that would work.
Problem #4: I don't have any IHG Rewards Club points.
Solution: We can transfer in 5,000 Ultimate Rewards to have 5,000 IHG Rewards Club points. Or we can buy 5,000 points for $67.50. Once we have 5,000 IHG Rewards Club points, we can buy unlimited quantities for 0.7 cents each.

The first step if you don't have any IHG Rewards Club points is to get to 5,000. From there you can buy more points cheaply.
The best way to get 5,000 IHG Rewards Club points is to buy 5,000 for $67.50.
If your cash poor, you can also transfer Ultimate Rewards points transfer to IHG Rewards Club points at 1:1 ratio in about 14 hours in my experience. You can make the transfer at ultimaterewards.com by clicking the IHG Rewards Club link under the transfer points tab.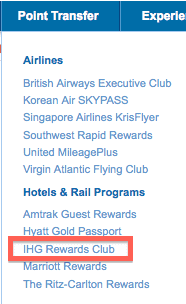 Then give your IHG Rewards Club account info and select the points to transfer in increments on 1,000.

You want to have 5,000 points after making the transfer. I feel bad moving Ultimate Rewards to IHG Rewards Club because Ultimate Rewards are worth almost three times as much as IHG Rewards Club points, but to be able to buy more IHG Rewards Club points for 0.7 cents, we need to have at least 5,000 IHG Rewards Club points.
Purchasing Points for 0.7 Cents
Once you have 5,000 or more points in your account, you can buy the rest of the points you need for 0.7 cents each.
The way to buy IHG Rewards Club points for 0.7 cents is to make a cash and points award booking then cancel it. Once you have an IHG Rewards Club account with 5,000 points, the next step is to book a 15,000 point award. Why? When booking a 15,000 point award, you are given the option to purchase the 10,000 point shortfall for $70, which is 0.7 cents per point. Here is such an award:

As you can see, this award costs 15,000 points or 5,000 and $70. Select 5,000 points and $70 and pay for the award. The confirmation screen makes it very clear that the $70 is going towards buying 10,000 points that would be immediately used to book the award.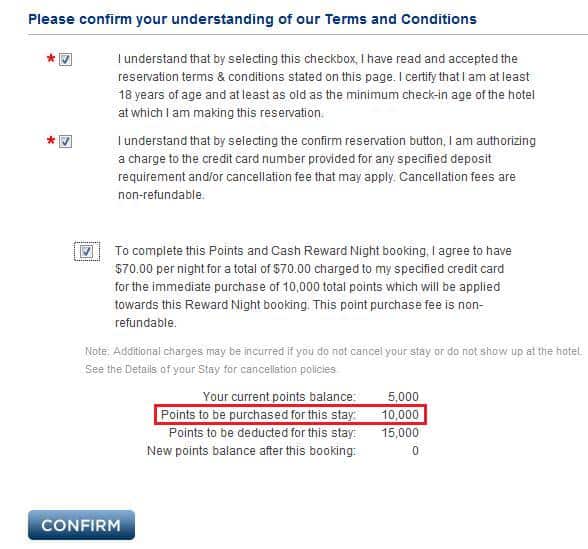 After booking, immediately cancel the reservation online by following a link from the booking confirmation page. That brings you to this screen:

As you can see, my reservation has been cancelled. As you can also see in the top right, the points immediately credit back to my account. My account now has 15,000 points, 5,000 that I transferred from Ultimate Rewards or bought for $67.50 and 10,000 that I just bought for $70 while making a dummy booking.
If you need more points, then you repeat this step. For instance, I recently increased my account balance from 5,000 to 45,000 in two dummy bookings. I just showed the first. In the second, I selected the same hotel on a three-night cash and points booking. That booking cost 15,000 points (my new balance) plus $210 to buy the other 30,000 points needed. Then I cancelled that booking, and I had 45,000 points from a 5,000 Ultimate Rewards transfer and $280 in cash.
If $280 sounds like a lot of cash, don't forget that my 45,000 points is enough for nine nights in a hotel.
Caveats
Not all hotels are on the PointBreaks list. Not all nights are available as 5,000 point award nights at the hotels that are on the list. Check availability before buying points.
Make sure your account has 5,000 more points than you need for your speculative bookings. You always want a balance of 5,000 points at the end for your next round of buying points. It would be a shame to have to make another Ultimate Rewards transfer next PointBreaks list.
Best Hotels on this PointBreaks List
As usual, the list is mostly Holiday Inns and Holiday Inn Expresses abroad plus Staybridge Suites and Candlewood Suites in the United States.
At $35, even those are steals, but if you want something more upmarket, check out:
NEW HAMPSHIRE
CROWNE PLAZA NASHUA
LITHUANIA
CROWNE PLAZA VILNIUS
ROMANIA
CROWNE PLAZA BUCHAREST
CAMBODIA
INTERCONTINENTAL PHNOM PENH ($177 per night in April)
JAPAN
CROWNE PLAZA ANA UBE
TIBET (CHINA)
INTERCONTINENTAL LHASA PARADISE ($270 per night in April)
BRAZIL
HOLIDAY INN FORTALEZA ($108 per night in April)
COSTA RICA
HOTEL INDIGO SAN JOSE FORUM COSTA RICA
I've got my eye on the CROWNE PLAZA SUITES SUITES TEQUENDAMA BOGOTA. I think I'll head back to the city for a few days in April, but honestly I prefer to stay farther north, so I probably will just get an Airbnb aprartment.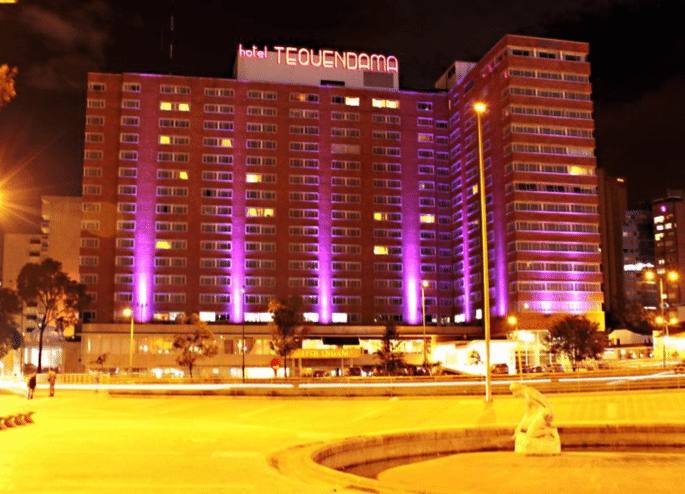 Examples of My PointBreaks Stays
Example from Summer 2013

I scoured that summer's PointBreaks list to see if any of my travel plans coincided with any of the hotels, and they did in one case: I was in South Africa in August and there was a Holiday Inn Express in Pretoria and a Holiday Inn in Sandton (Johannesburg) on the list.
I booked three consecutive one night stays at the Holiday Inn in Sandton and three consecutive one night stays at the Holiday Inn Express in Pretoria.
The Sandton Holiday Inn goes for $117 per night, but I got the rooms for $35.
I used three of the six nights, and I canceled the ones I didn't need within a few days of check in when I finally knew my plans. (Check the cancellation policy when you book as it varies by hotel, but you always have until the last few days at a minimum.)
Neither hotel was luxurious, but both had free internet and the Holiday Inn Express had a free hot breakfast buffet that saved me the cost of a meal.
Both hotels were clean and comfortable, so I was very happy with my stays as I reported in my post about saving 88% on my hotel bill in Stockholm.
Example from Summer 2012

I checked that summer's PointBreaks list to see if any of my travel plans coincided with any of the hotels, and they did in one case: I would be in Krakow, Poland and the Holiday Inn Krakow City Centre was on the list.
I was in Krakow June 6 – 9, and I didn't have a hotel booked. While the Krakow Holiday Inn was hardly the nicest property on the PointBreaks list, its cheapest room June 6 was 531 Polish Zloty, which was $153.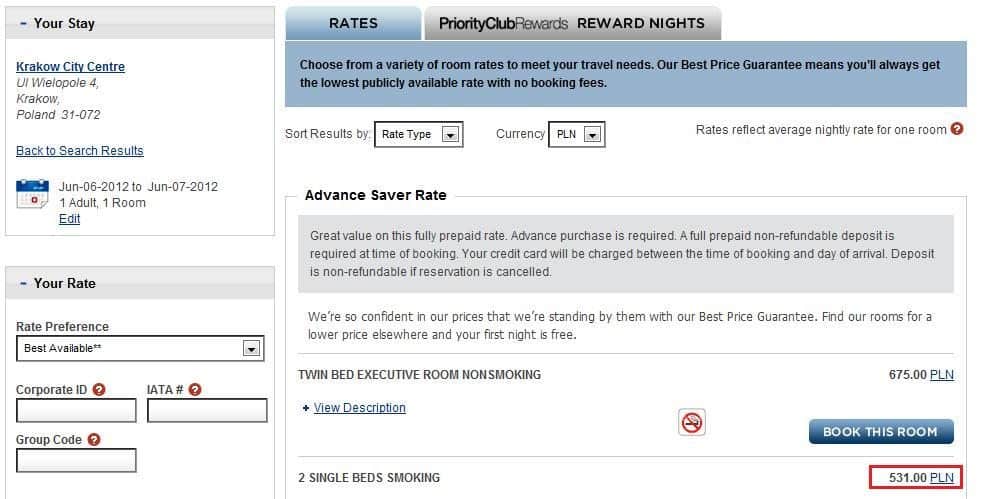 The first thing I did was search availability, and I found space June 6 and 8, but not June 7. I decided to book June 6 and 8, so I needed 10,000 IHG Rewards Club points.
I had zero IHG Rewards Club points in my account, so I transferred in 5,000 points from Ultimate Rewards. I bought 10,000 more points for $70 exactly how I outlined above leaving me with 15,000 points after I cancelled my dummy booking.
With my new points, I made two one-night bookings on June 6 and 8.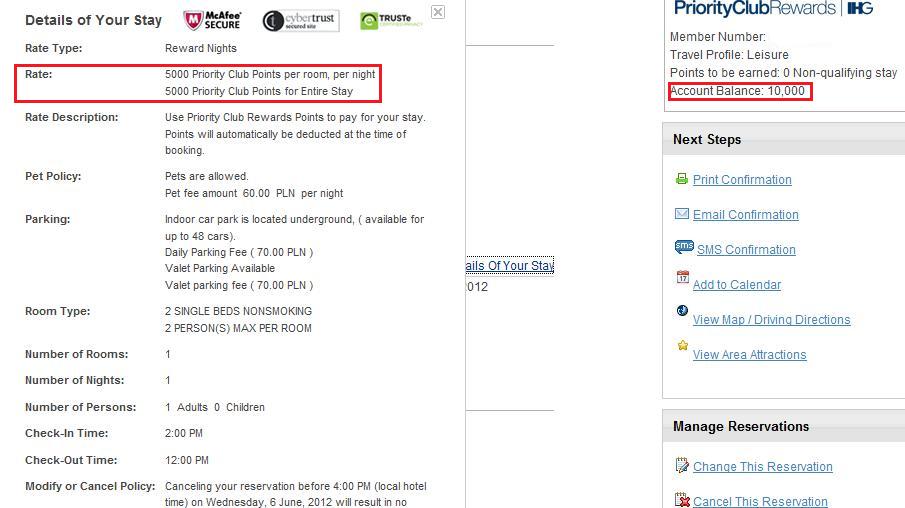 I noted the cancellation policy, which varies by hotel, in case I had to cancel. At the Holiday Inn Krakow, I just had to cancel by 4 PM the day of arrival.
I ended up very much enjoying the stay at the Holiday Inn Krakow, and I wrote about it in my Krakow, Poland Hotel Guide.
Recap
The new PointBreaks list is out from IHG Rewards Club. This is a list of hotels you can book for 5,000 points or $35 per night. The best way to take advantage of the list is to be active right now.
I have booked a $153 hotel room for $35 using the techniques in this post.
Which hotel will you stay at for $35?
————————————————————————————————————
Never miss a post again! Follow MileValue on Twitter and Facebook. And sign up to receive one free daily email every morning with all of the day's posts!
Pay your award taxes and fees with the Arrival Plus then redeem Arrival miles to remove the charge.