I earn a commission for some links on this blog. Citi is a MileValue partner.
The deal is back on as of 5/16/15. It usually lasts a few weeks every few months.
Southwest is currently offering 50k bonus point sign ups on its personal and business credit cards after spending $2,000 in three months. You can leverage the offers for $3,142 in free flights.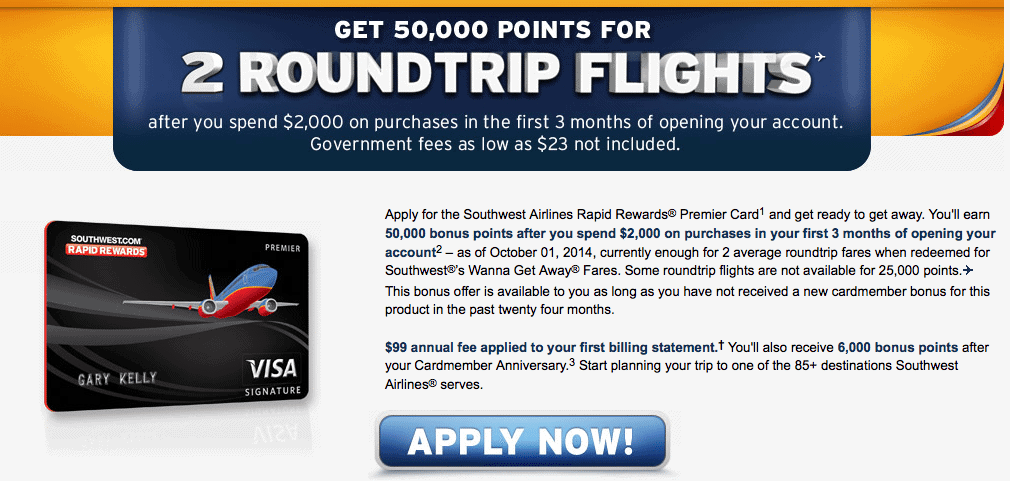 You can get both a personal and business card at once, and after meeting their minimum spending requirements, you will have 104,000 Rapid Rewards post to your account.
Southwest has a fixed-value program in which you can get any Wanna Get Away? fare for 70 points for every dollar of the base fare. That means 104,000 points are worth $1,485 in free flights.
Earn another 6,000 Rapid Rewards with the cards or a few other ways–getting to 110k points total–and you will earn the best deal in all of travel hacking: a Southwest Companion Pass for the next 18 months.
If you have the Southwest Companion pass, you can designate a companion who flies for $5.60 per direction on every Southwest flight you fly. That's every Southwest flight–including paid tickets and awards–for the rest of 2015 and 2016.
The free travel from the 110k Rapid Rewards and Companion Pass are worth around $3,142 even after Southwest's recent devaluation.
There are two ways to earn the Southwest Companion Pass: fly 100 paid segments or open two credit cards and use one of several methods to get the last 6,000 points.

This post will be about the easier and cheaper way: getting the credit cards.
The Cards
The easiest way to earn a Southwest Companion Pass is to earn 110,000 qualifying points in one calendar year. At the moment, qualifying points can be earned from credit card sign up bonuses, credit card spending, Rapid Rewards shopping portal points, or hotel points transfers among other ways.* Qualifying points CAN NOT be earned by transferring points directly from Ultimate Rewards.
Right now all three of the Southwest credit cards are offering a 50k Rapid Rewards sign up bonus after spending $2,000 in the first three months.
Each card requires $2,000 spending in 3 months to unlock the bonus miles. The $99-annual-fee Premier cards come with 6,000 anniversary Rapid Rewards. The $69-annual-fee Plus card comes with 3,000 anniversary Rapid Rewards. The annual fee is never waived on either card type.
There used to be four cards, but Chase recently discontinued the Business Plus card.
Can You Get Two Southwest Cards at Once?
You can and should get two Southwest cards the same day if you want to get the Southwest Companion Pass. I've seen tons of reports of people getting one personal and one business Southwest card on the same day. I have also seen people report getting both the Plus and Premier personal cards on the same day.
The Strategy to Get 104k Southwest Rapid Rewards
Sign up for both a personal and business 50k card offer.
The earlier you meet the $2,000 minimum spending requirement on each card, the sooner your points will post. Points usually post at the same time as your credit card statement closes. Theoretically you could meet the spending requirements by June 2015.
When that happens, you'll have about 104,000 qualifying points toward the 110,000 you need for your Companion Pass.
Here's where the fun begins. There are two great ways to get those 6,000 points and your free companion pass good through December 2016.
1. Spend $6,000 more on either card. The 6,000 Rapid Rewards points earned will put your total at 110,000.
2. This one is multistep, but should only take a few minutes.
Why can't I just transfer 6,000 Ultimate Rewards to 6,000 Rapid Rewards? They are transfer partners.
Ultimate Rewards transferred directly to Rapid Rewards do not count toward the 110,000 qualifying points threshold. But hotel points transferred in do count, and this two-step process gets the 6,000 qualifying Rapid Rewards at the cost of the fewest Ultimate Rewards.
3. through 10.
There are more than just these two options to get the 6,000 points that we need after meeting the credit card spending requirements. Here is Million Mile Secrets with ten ways.
Maximizing the Value of the Pass
An easy was to maximize the value of a Southwest Companion Pass is to use all four of your companions.
From southwest.com's FAQ on the Companion Pass:
The Companion Pass is not transferrable. However, the Member may change his/her designated Companion and request issuance of a new Companion Pass up to three (3) times within the validity period of the Pass. Requests must be made in writing and accompanied by the current Companion Pass card, which will be cancelled, to: Southwest Airlines, Rapid Rewards, P.O. Box 36657, Dallas, TX 75235. In addition, please include the new Companion's name, address, phone number, social security number, and date of birth. Allow 21 business days for processing.
You can switch back and forth between companions, designating a new companion four total times–the original companion and three changes. You can only have one companion at a time, but there is still some value in efficiently using your changes.
Recap
With a few easy steps, you can get $3,142 worth of travel on Southwest:
Open two of the Southwest 50k cards on the same day.
Meet the minimum spending requirement on each as soon as possible.
Then get the last 6,000 points needed to get to 110,000 qualifying points and a free Companion Pass on Southwest through the end of 2016 for $6,000 in spending or 13,000 Ultimate Rewards.
Designate a companion to fly for $5.60 per direction on Southwest every time you fly on Southwest, whether you're flying a paid ticket or an award.
Bonus
Why not have both parents get the Companion Pass and each name a child as a companion? That would be a 4-for-2 travel deal for up to two years.
Getting the Cards
————————————————————————————————————
Never miss a post again! Follow MileValue on Twitter and Facebook. And sign up to receive one free daily email every morning with all of the day's posts!
Earn 50,000 bonus points (worth $800 in American Airlines flights) after spending $3,000 in the first three months on the Citi Prestige® Card. Plus get an additional $500 in free airfare on any airline in the first 12 months plus free airport lounge access worldwide for only a $450 annual fee. Why I got the card.