I earn a commission for some links on this blog. Citi is a MileValue partner.
Singapore Airlines has lowered the fuel surcharges on its flights, which means your Singapore Suites Class bookings are now cheaper. You know Singapore Suites Class as the only cabin that offers a double bed on an airplane (besides the three-room suite on Etihad's A380.)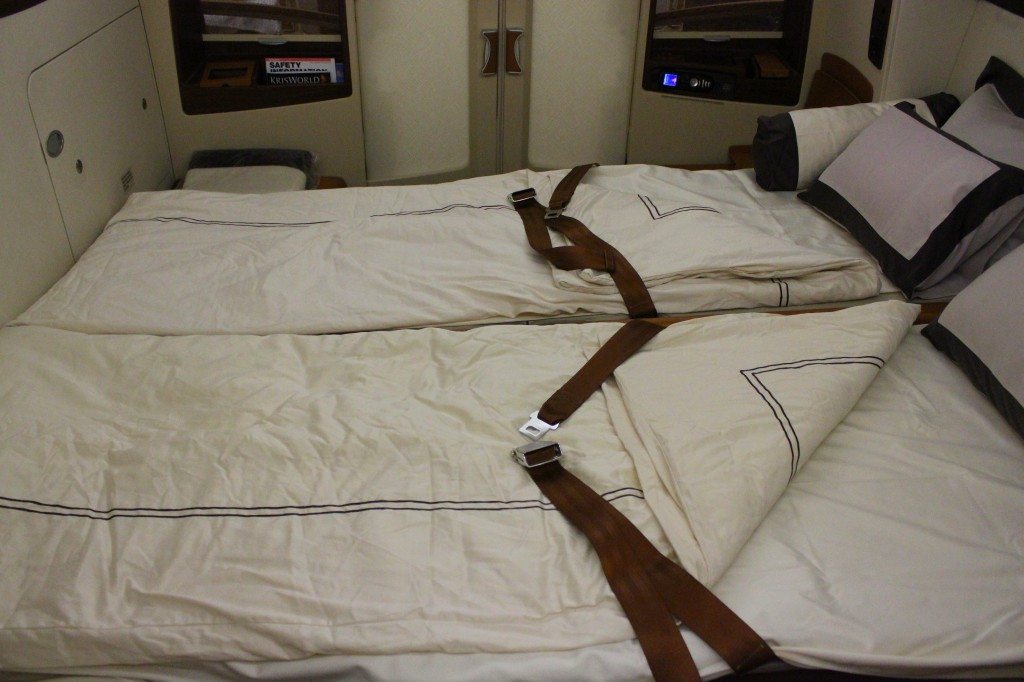 Singapore Suites is the First Class cabin on the Singapore Airlines A380. The only way to book Singapore Suites or First Class on the Singapore 777 is with Singapore miles. Luckily Singapore miles are super easy to get as Singapore miles are a 1:1 transfer partner of Chase, American Express, Citi, and Starpoints. (Transfers from the first three programs take less than 48 hours.)
Singapore collects fuel surcharges on awards when the underlying cash ticket would have a fuel surcharge. That means that every dollar Singapore dropped its fuel surcharges today is a dollar you save next time you book Singapore Suites Class.
What is the Singapore Suites product?

What are the fuel surcharges on Singapore Suites awards?
Product
Singapore Suites Class is a fully enclosed suite with over the top service, fancy alcohol, and delicious food.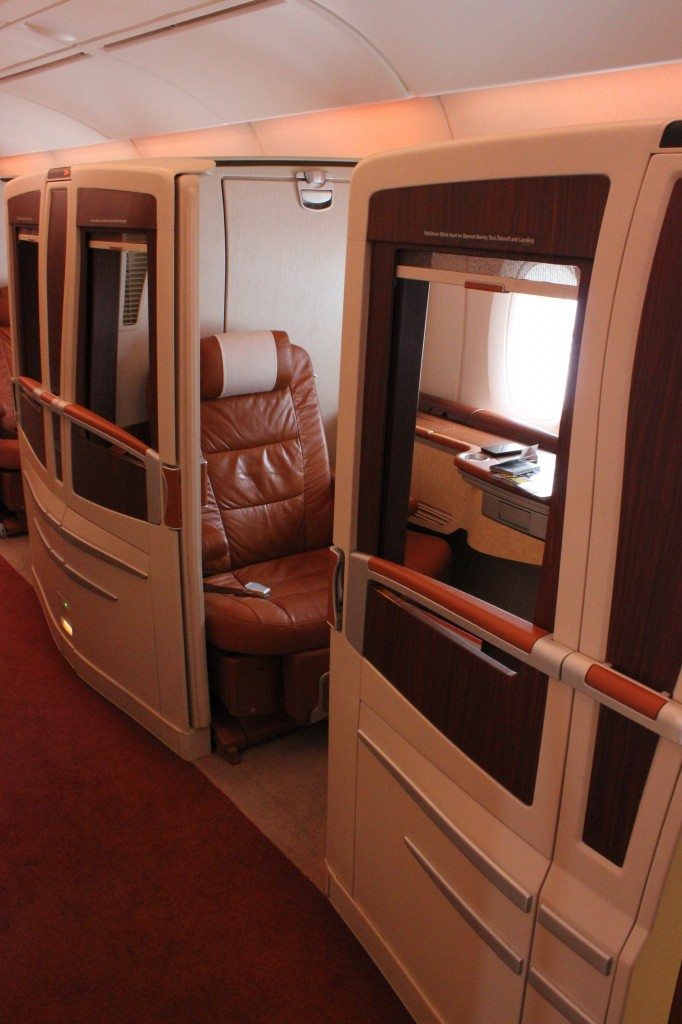 The cabin is laid out 1-2-1 and is most famous because the two suites in the middle can be combined into one double bed. If the cabin isn't full, sometimes they even offer the double bed to a solo traveler!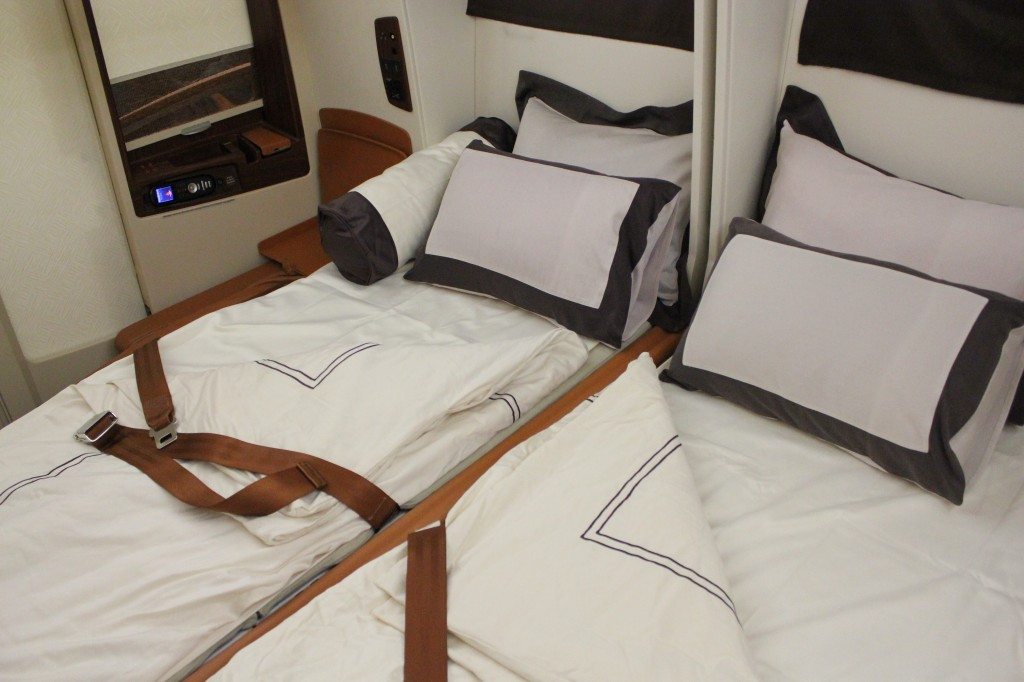 This is one of the best, if not the best, product in the world.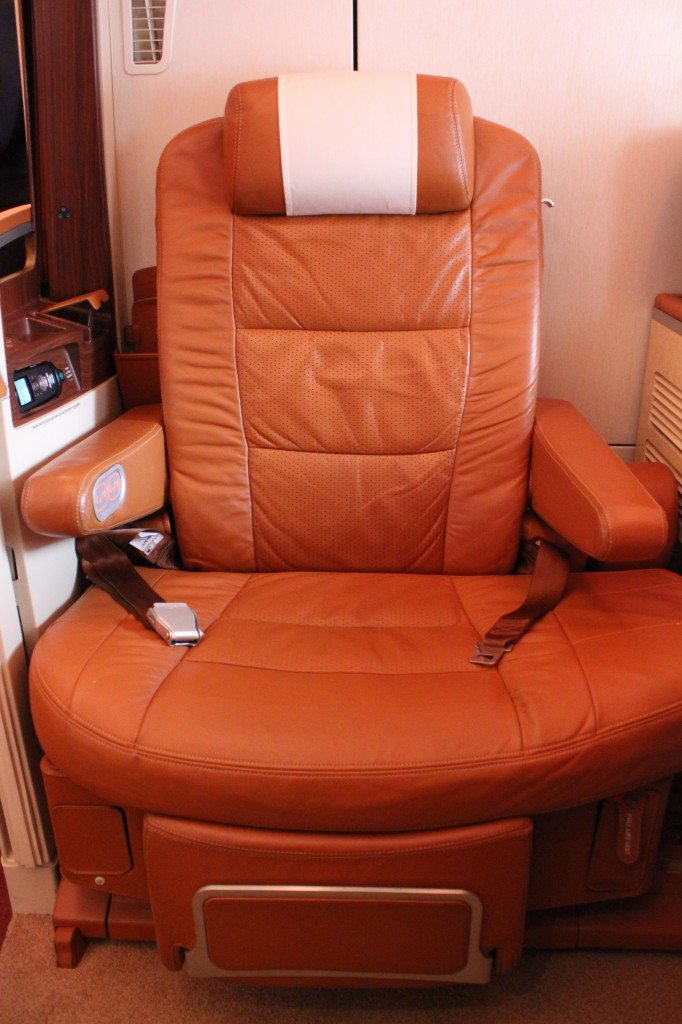 Award Pricing
There are no nonstop flights from the United States to Singapore. Singapore Airlines serves New York, Houston, Los Angeles, and San Francisco, all with a stop somewhere en route to Singapore. For instance, Houston to Singapore stops in Moscow. You can book Houston to Moscow, Moscow to Singapore, or Houston to Singapore.
Singapore Suites and First Class awards have an eye-popping headline miles price, but you get an automatic 15% discount for booking online, so the prices become a lot more palatable.
Los Angeles or San Francisco to Singapore: 91,375 miles one way in Suites/First Class
Houston or New York to Singapore: 93,500 miles one way in Suites/First Class
Los Angeles to Tokyo and San Francisco to Seoul: 74,375 miles one way in Suites/First Class
Houston to Moscow and New York to Frankfurt: 57,375 miles one way in Suites/First Class
New York to Frankfurt to Singapore
New York to Singapore costs 93,500 mile s+ $286.70 when booked online.
That's a drop of about $70 from last week.
New York to Frankfurt
Just the New York to Frankfurt leg is 57,375 miles + $203.30. That's a $15 break from last week.
Los Angeles to Tokyo
Los Angeles to Tokyo now goes for 74,375 miles +$183.60.
That's actually $11 more than it was last week!
Singapore to London
This is the route I booked for myself in Singapore Suites two years ago. It now costs 91,375 miles + 278.9 SGD ($223.)
When I booked the route, I paid 315 SGD, about $30 more.
Award Space
In a word: pitiful. You can search award space on singaporeair.com as explained in Booking Singapore Suites. I didn't find any Saver award space on a Singapore A380 in Suites Class from the United States on my searches. I didn't search every day on every route, but I searched some off peak times for a few weeks at a time. There's probably some space out there, but not much.
Singapore Suites Class is not a product you can easily fit into a schedule. It's a product that you schedule around.
Bottom Line
Singapore Suites Class is fantastic. Awards to get into Singapore Suites Class got cheaper today as Singapore Airlines dropped fuel surcharges. None of it matters if you can't actually book the Saver awards, which at the moment are very rare to/from the United States. Check between Singapore and Europe for better space.
————————————————————————————————————
Never miss a post again! Follow MileValue on Twitter and Facebook. And sign up to receive one free daily email every morning with all of the day's posts!
Pay your award taxes and fees with the Arrival Plus then redeem Arrival miles to remove the charge.