The Virgin Atlantic World Elite MasterCard® is offering up to 90,000 bonus miles through January 10, 2016, but there are quite a few strings attached.
The bottom line is that you earn 127,500 Virgin Atlantic miles after spending $25,000 in the first year on the card and paying $180 in annual fees. The offer breaks down like this:
25,000 Immediate Miles after First Purchase, Adding Authorized Users, and Paying Annual Fee
20,000 Flying Club bonus miles after your first retail purchase
Earn 2,500 Flying Club miles for each authorized user you add to the card up to 5,000 Flying Club bonus miles
The card has a $90 annual fee that is NOT waived the first year.
This is 25,000 total miles just for opening the card, adding two authorized users, making one purchase, and paying the $90 annual fee.
Miles as Soon as You Spend $12,000 within 6 Months
50,000 additional Flying Club bonus miles after you spend at least $12,000 in qualifying purchases within 6 months of your account open date
We're up to 75,000 bonus miles. Plus the card earns 1.5 miles per dollar on all purchases, so you'd have 93,000 Virgin Atlantic miles after spending $12,000 on the card.
Miles Next Year
Earn 7,500 bonus miles upon anniversary if you spend $15,000 in a year on the card
Earn 15,000 bonus miles upon anniversary if you spend $25,000 in a year on the card
The card has a $90 annual fee that you'd have to pay again to get these anniversary miles.
The first anniversary bonus threshold is only $3,000 beyond the minimum spending requirement, so that seems like a no-brainer if you've gotten this far. You'd get 12,000 miles for that $3,000 in spending (4,500 for the normal spending and 7,500 bonus) or 4 miles per dollar.
The last 7,500 bonus miles would cost another $10,000 in spending, so the return isn't nearly as good.
If you spent $25,000 on the card in the first year (and $12,000 was in the first six months, and you added two authorized users), your total haul would be 127,500 Virgin Atlantic miles.
90,000 for the various bonuses
37,500 for $25,000 * 1.5 miles per dollar on all spending
You would also have paid $180 in annual fees.
How to Use Virgin Atlantic Miles
Awards booked with Virgin Atlantic miles have fuel surcharges whenever the equivalent cash ticket would have fuel surcharges. Here are the best uses of Virgin Atlantic miles.
From a previous post:
1. Among the Cheapest Economy Awards to Europe (in Miles)
The first reason to get Virgin Atlantic miles is that economy class awards to Europe require far fewer miles than competitors' charge. From Boston, New York, Washington, and Chicago, you only need 17,500 Virgin Atlantic miles for a one way flight to the UK on Virgin Atlantic flights.
And taxes and and fuel surcharges on the one way from the US to Europe are only $98!
Combine a one way from the eastern US to Europe for 17.5k Virgin Atlantic miles plus $98 and return from a low tax country to the US on a one way award with United or American miles for a very cheap European vacation.
I wrote more about searching Virgin Atlantic award space, the fuel surcharges you'll see, and booking the space in Huge Deal: 13k Miles to Europe This Summer.
2. Incredible Value Partner Awards
Virgin Atlantic has several airline partners.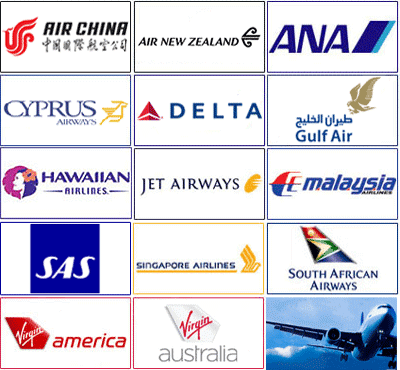 Each has its own award chart, and the values can be good, especially with this transfer bonus. Best of all, many of the partners don't collect fuel surcharges on their flights, so Virgin Atlantic doesn't collect fuel surcharges on award tickets on those airlines!
I called Flying Club at (800) 365-9500 and priced out several awards.
The call was fairly smooth although the agent told me that Atlanta to Buenos Aires on Delta wasn't bookable with Virgin Atlantic miles. When I pressed him to double check, he came back with the news that it indeed is bookable. As always, you may know more than the phone agents, so be polite but firm.
Award prices including unavoidable government taxes (none include fuel surcharges):
[Update 10/8/14, these taxes will be slightly higher now since the new tax on flights departing the USA is $5.60 one way instead of $2.50 per flight.]
Atlanta to Buenos Aires in roundtrip economy on Delta: 45k miles + $77.32
New York to London in roundtrip economy on Delta: 40k miles + $190.60
Atlanta to Los Angeles in roundtrip economy on Delta: 25k miles + $5
New York to Paris in roundtrip economy on Delta: 60k miles + $90.66
New York to Honolulu in roundtrip First on Hawaiian: 130k miles  + $5
New York to LAX in roundtrip Main Cabin Select on Virgin America: 50k miles + $5 from Tuesday to Sunday over Thanksgiving
I learned a few key things about partner awards from the call:
Delta awards have no fuel surcharges, just the same government taxes as booking with Delta miles.
The Delta award chart is way underpriced to Southern South America. Buenos Aires for 45k Virgin Atlantic miles roundtrip is a steal.
There are no fuel surcharges on Hawaiian Airlines award flights.
The Hawaiian award chart says economy roundtrips are "from 40,000 miles" and first is "from 80,000 miles." Those prices only refer to roundtrips from the western US. The roundtrip price to/from JFK is quite a bit higher.
There are no fuel surcharges on Virgin America award flights.
Not all Virgin America flights have award space that Virgin Atlantic has access to. There's no way to check without calling Virgin Atlantic that I know of. Before calling, I didn't know what to expect with respect to Virgin America space since Virgin America's program is revenue-based and doesn't include a concept of "award space."
The Virgin Atlantic/US Airways partnership is dead, so you can't use Flying Club miles to fly US Airways.
3. Virgin Atlantic Upper Class
Virgin Atlantic's Business Class–called Upper Class–is one of the best in the world with many folks comparing it to First Class. I am anxious to fly it.
Virgin Atlantic offers its Flying Club members the best award availability, but the catch is the fuel surcharges (plus departing London taxes) of around $1,000 per roundtrip award in Upper Class.
While the out-of-pocket is a big drawback, the miles prices are very low. New York and Chicago to London are only 80k miles roundtrip in Upper Class and Los Angeles and San Francisco to London roundtrip in Upper Class are only 100k miles.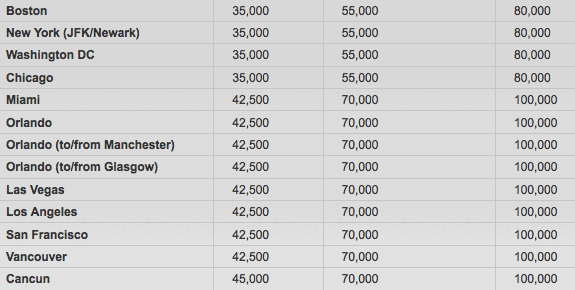 If you want to avoid fuel surcharges, Delta miles can be used to book Virgin Atlantic Upper Class for 125k miles plus taxes and no fuel surcharges.
4. Transfers to Hilton Points
Virgin Atlantic miles transfer to Hilton points at a 1 mile to 1.5 points rate. I've described transferring my own Virgin Atlantic miles to Hilton points in Transferring Virgin Atlantic Miles to Hilton HHonors Points.
I wouldn't make this transfer. If you do, though, make sure to use the Hilton points at Category 1 and 2 properties.
Should You Get the Virgin Atlantic Credit Card?
Probably not. I know the headline bonus miles number is humungous, but the miles are not as valuable as American, United, or Alaska miles, and the spending requirement is huge.
Only get the card if you have gotten other, better cards already, you can easily meet the big spending requirement on this card, and you can get good value from one of the few truly good uses of the card's miles.
------------------------------------------------------------
Editorial Disclaimer: The editorial content is not provided or commissioned by the credit card issuers. Opinions expressed here are author's alone, not those of the credit card issuers, and have not been reviewed, approved or otherwise endorsed by the credit card issuers.
If you liked this post, sign up to receive one free daily email every morning with all of the day's posts! You can also follow MileValue on Twitter and Facebook.
Earn 50,000 bonus points (worth $800 in American Airlines flights) after spending $3,000 in the first three months on the Citi Prestige® Card. Plus get a $250 Air Travel Credit each calendar year, free airport lounge access worldwide, and your fourth night free on hotel stays. Why I got the card.