American Airlines has released award space in first class on its three-cabin 777 from Los Angeles to Miami on 18 days in April 2014 including the last 11 days. But you would never know that from searching aa.com for the award space, where no first class award space shows up on the route at all in April 2014.
What's going on with aa.com, how can you get an accurate reading of American Airlines award space, and are any other routes affected?
I was daydreaming about a trip from Hong Kong to Los Angeles on Cathay Pacific First Class with a later free oneway to Tampa. For the free oneway, I had in mind flying the Los Angeles to Miami leg in three-cabin first class on a flat bed. It was a nice daydream. 😉
Only one Los Angeles to Miami flight daily is on a 777, AA 1520 departing LAX at 10:40 AM and arriving MIA at 6:30 PM.
But when I searched for Los Angeles to Tampa at aa.com, I couldn't find any MileSAAver awards in three-cabin first class. I decided just to search for the Los Angeles to Miami flight.
I couldn't find any MileSAAVer award space at all from Los Angeles to Miami in three-cabin first class next April. If there were award space at all in April 2014, I would be able to click on the grayed out box at the top for First MileSAAver at the 32.5k miles level that says Not Available in this screen shot.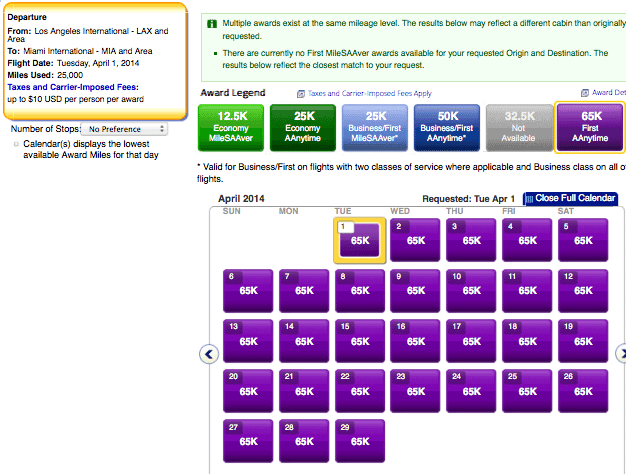 I clicked on one of the AAnytime dates to see if there was space at the AAnytime price on AA 1520. Oddly there was no space listed on the direct flight at the AAnytime price, just connecting flights through New York.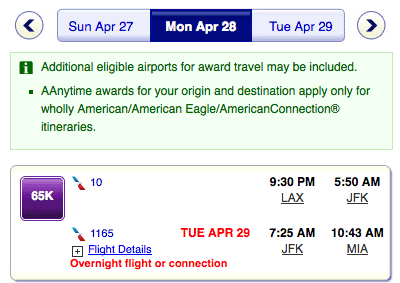 I was so surprised that I went to ba.com to search for award space on the direct flight in first class. Space abounds in April 2014. As I noted, 18 of the 30 days have award space in first class flat beds on AA 1520. One such day is April 28.


If British Airways Avios can be used to book an American Airlines flight, that should mean that American Airlines has released the seat at the MileSAAver price.
Confused, I called an American Airlines agent at 800-882-8880 to attempt to put on hold the space I saw on ba.com that I didn't see on aa.com.
The American Airlines agent had no trouble putting on hold a first class award seat for me either of the test dates on which I had seen space on ba.com but no space on aa.com.
The invisible first class award space was MileSAAver space that cost 32,500 American Airlines miles + $2.50. (Or in the context of my planned free oneway, zero miles + $2.50.)

What's going on?
As far as I can tell, the only space aa.com is not displaying properly is First Class on AA 1520 and AA 299, the Miami to Los Angeles flight served with a 777. Award space exists on these flights at the MileSAAver level and is bookable at ba.com with Avios or with American Airlines miles by calling American Airlines.
Economy and business class space is still bookable on the flights–mostly at the AAnytime price–on aa.com.
Other domestic flights with three cabins like New York to Los Angeles don't seem to be affected.
Recap
This is just another example that searching multiple search engines can yield different results, which is why I recommend proficiency on:
aa.com
ba.com
qantas.com
united.com
aeroplan.com
ana.com
delta.com
airfrance.us
expertflyer.com
We recently covered that united.com doesn't always properly display award space–sometimes showing space when there is none and sometimes not showing space when it does it exist. But I have never seen an airline improperly display its own space. Any guesses as to what's going on?

---
Editorial Disclaimer: The editorial content is not provided or commissioned by the credit card issuers. Opinions expressed here are author's alone, not those of the credit card issuers, and have not been reviewed, approved or otherwise endorsed by the credit card issuers.
If you liked this post, sign up to receive one free daily email every morning with all of the day's posts! You can also follow MileValue on Twitter and Facebook.