There are some great deals and tips kicking around the web that were already written up perfectly. I have added a few notes, and hopefully the aggregation will be useful.
1) Mile Nerd flags the opportunity to earn 15 American Airlines miles per dollar on donations during October–Breast Cancer Awareness Month–to Susan G. Komen for the Cure.
Donate through the link on this page. Full terms and conditions: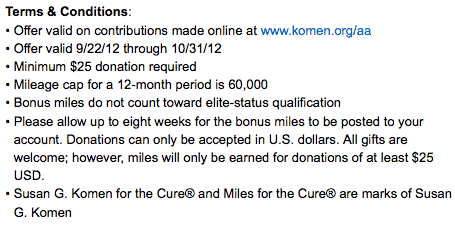 If you were already intending to donate, this is a great deal. Here is my previous post on the implications of earning miles for charity donations.
2) Million Mile Secrets writes about a new tool that automatically checks you in for your Southwest flight 24 hours before departure, so that you can get in the A boarding group. That's important because Southwest has open seating, so the first ones on get the best seats and bin space.
I checked in for my Southwest flight to Chicago last week only about 12 hours in advance. I got a C boarding group. I did get a second-row window seat–my preference for flights when I want to sleep–because no one had wanted to ask the very old lady to stand up in the middle seat. It was a totally full flight, though, so I didn't mind.
Here are my two best tips for a good Southwest seat:
If you fly a direct, one stop flight, which are very common on Southwest, you can move seats at the stop. When I flew Burbank to Las Vegas to Tampa on the same plane, I had a junk seat the first hour, but the last four hours, I had a window bulkhead.
Take the middle bulkhead seat for extra legroom. It is usually open until very late in the boarding process. For me leg room is more important than elbow room, and this seat delivers.
3) The Points Guy flags a pretty incredible Starwood promo that rebates 30-50% of the cost of a full points (not Cash & Points) award on a short–but incredible–list of resorts. This promo, in many cases, gets you the room for the same number of points as a Cash & Points award without the cash component!
You have to register by November 30 and stay by December 21. There are some great warm weather locations and some great ski locations, so this could be an incredible deal for many people.
4) Flying Blue has released its quarterly discount awards. You can fly on select North America to Europe routes for 25k Flying Blue points roundtrip in economy or 50k in business. AMEX Membership Rewards transfer to Flying Blue at a 1:1 ratio. The bad news is that Flying Blue levies surcharges that can approach $1,000 per person.
Here is a list of the North American cities with promos.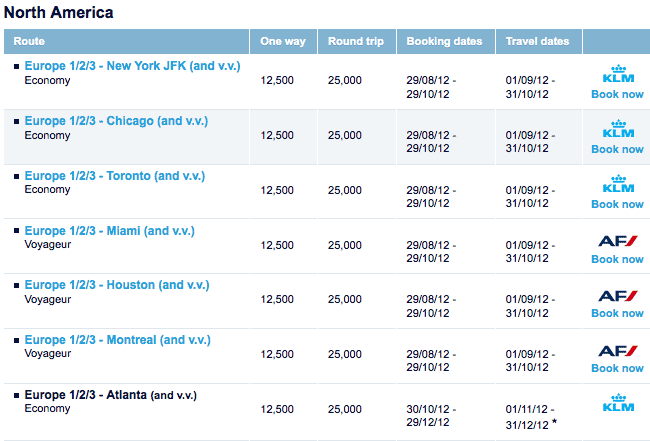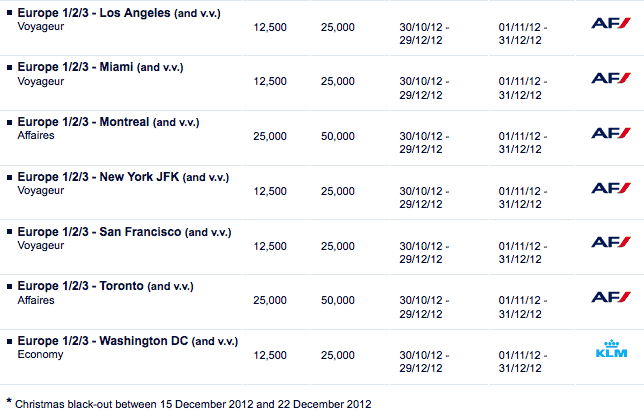 5) It's Free Giveaway Friday. I'm working through my last few gogo single-flight internet passes. I had the chance to use one myself coming from Chicago to Los Angeles. It was great for writing blog posts and listening to Spotify.
Friday's winner of the gogo pass was Ketan. Lucky him: he can read MileValue for free from 35k feet.
Comment below for your chance to win a single-flight gogo internet pass that expires 12/31/12.
Gogo internet is available on select planes on Air Canada, AirTran, Alaska, American, Delta, Frontier, United, US Airways, and Virgin America.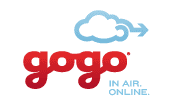 If you ever have something travel related that you want to give away, let me know.
---
Editorial Disclaimer: The editorial content is not provided or commissioned by the credit card issuers. Opinions expressed here are author's alone, not those of the credit card issuers, and have not been reviewed, approved or otherwise endorsed by the credit card issuers.
If you liked this post, sign up to receive one free daily email every morning with all of the day's posts! You can also follow MileValue on Twitter and Facebook.