I earn a commission for some links on this blog. Citi is a MileValue partner.
I always use the ITA Software Matrix. It's one of the most useful tools to search for available flights and low fares. First, go to matrix.itasoftware.com.
Type in your home airport and destination airport. You can use airport codes like JFK (New York-JFK) or even city codes like NYC (which includes JFK, LaGuardia, and Newark.)
For this example, let's look at JFK to Honolulu. ITA Matrix is awesome, so you can type in all kinds of commands like which airline you want to fly. In the example below, I wrote HA into the boxes, which means only return Hawaiian Airlines results. I did that because Hawaiian has a direct flight from JFK to Honolulu. If you leave that blank, all airlines will be returned.
I also prefer to search certain length trips one month at a time for the lowest fares, so use that section of the form by selecting "See calendar of lowest fares." I've asked it to search for 3-8 night itineraries leaving in the month of January.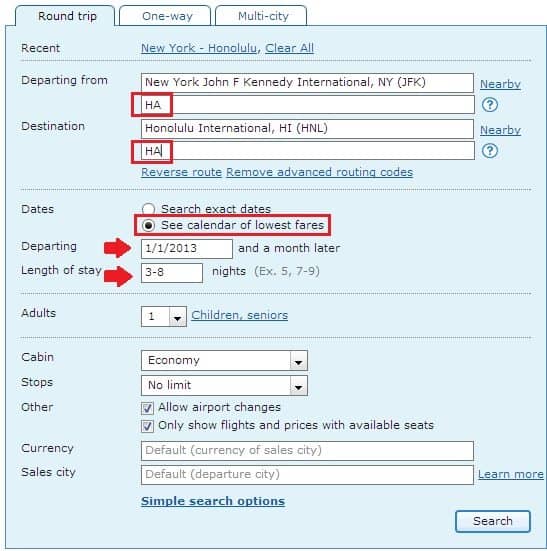 After you click "Search" you will be taken to a calendar displaying the lowest fare departing each day. You can ignore fares in light blue (though $447 is still a great price). You are targeting the $435 days in bold orange.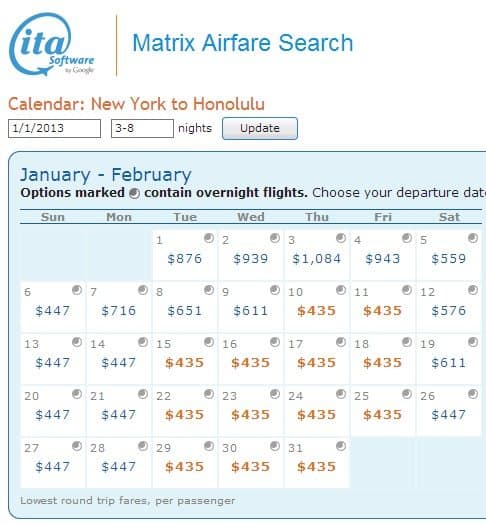 Clicking on a particular date will bring up the lowest prices departing on that date and returning 3-8 days later. Once you have found a comfortable length of time, click to display the flight.

Remember that the ITA Matrix is only for finding airfares. You don't have the ability to book directly through this site. Write down the dates and flight numbers that work for you, and book directly through Hawaiianairlines.com.
I use ITA Matrix because a quick one-minute search can show me a month at a time on a specific airline or all airlines. Then I can go the airline's site, select seats, and purchase easily.
Save your money. Buy the cheapest flights you find on ITA Matrix with credit card points you got for free for opening a card and meeting its minimum spending requirement.
The best one is the Citi ThankYou® Premier Rewards Card, which has a sign up bonus worth $625 in free flights on any airline with no blackouts.
My Review of the Citi ThankYou® Premier Rewards Card
Application Link: Citi ThankYou® Premier Rewards Card