Are you better off using Avios or American Airlines miles for a trip to South America?
I'm at the beginning of probably nine months of travel, with almost no flights booked and only the vaguest sense of where I'll head and how I'll get there. I'm having an absolute blast in Bogota, Colombia, so I think I want to go to Cali or Medellin, Colombia after a quick trip back to the United States.
I am looking at flying from Philadelphia to Colombia in about two weeks, and my most convenient options–one stop in Miami versus 2+ stops–are on oneworld flights. I can book those flights with American Airlines miles, British Airways Avios, or cash.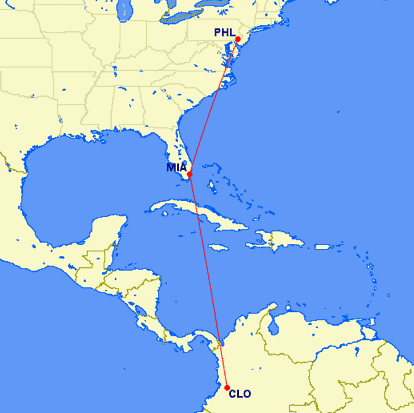 Things are complicated further by close-in ticketing fees, Cash & Avios awards, my point valuations, and my mileage balances, so I thought what better way to tease out the best value than a little early-morning math!
Even if you never want to go to Colombia (big mistake!) or you mainly focus on miles other than American and British Airways, this post should illuminate how to decide which miles to use for a certain trip and whether to use miles at all or just to pay cash.
Which is the best value to Colombia: AA miles, BA miles, or cash?