The 50,000 mile bonus offer has returned on the Premier Miles & More® World MasterCard® from Barclaycard.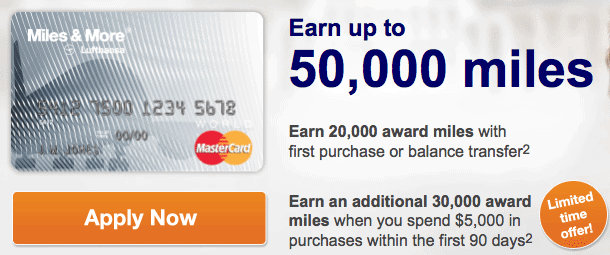 The Premier Miles & More® World MasterCard® now comes with 50,000 bonus miles after spending $5,000 in the first 90 days. After meeting the spending requirement, you'll have enough Lufthansa Miles & More miles for a roundtrip in business class to Europe.

We've seen the same bonus run three times in the last two years, and it has been overwhelmingly popular. The normal bonus on the card is only 20,000 miles.
On the earning side, I think every aspiring traveler should get the Premier Miles & More® World MasterCard® for its:
sign up bonus
frequent targeted category bonuses
potential secondary spending bonus
Beyond the 55,000 miles you'll get for spending $5,000 on the card in the first three months, occasionally the Lufthansa Miles & More card offers targeted category bonuses. For the first three months of 2014, I earned 3 miles per dollar at grocery stores with my Lufthansa card. Others were targeted for 6 miles per dollar.
And many of us also were offered 15k Bonus Lufthansa Miles for Spending $500 or $750 Per Month for Three Straight Months on the card.
With these promos, I earned over 73,000 Lufthansa miles on the card in less than a year.
On the redemption side, Lufthansa Miles & More miles can be used on any of the 27 Star Alliance airlines including United, Lufthansa, and Air New Zealand. There are three types of awards where Lufthansa miles shine:
Mileage Bargains awards (30k miles roundtrip to Europe in economy, 55k miles roundtrip to Europe in Business Class)
Awards without fuel surcharges (Alaska, Hawaii, domestic, Caribbean, Central America, and South America)
Awards you can't book with United miles (Lufthansa First Class more than 15 days in advance, Condor flights)
But the card is not for everyone. It depends on how you want to redeem the miles because for some awards, Lufthansa miles are a terrible value.
In this post, I will go in detail on the three classes of high value awards with tons of specific examples to show the best uses of the 50,000 mile sign up bonus.
This post is also a full primer of the Miles & More program for people who don't know much about it and explains how to book online and by phone, two ways to save miles on a Miles & More booking, and comparisons between Miles & More and United MileagePlus.