This is another post in my Anatomy of an Award series, in which I take a real award I've booked and break it down step-by-step to elucidate the award booking process. If you have a real award you'd like to write up in a similar post, please contact me, and you can write a guest post.
Yesterday I wrote about needing to find an award to Hawaii. I had found a return using Avios to fly on an American Airlines flight, but I still didn't have the flight to Honolulu. To book the outbound, I used an incredible feature of the Hawaiian Miles program: the free Share Miles feature.
Here again are the options to get from the mainland to Hawaii:
BA (on AA planes) best option but no availability my dates
American (you can use AA miles to fly AA, Hawaiian, or Alaska planes)
United (United or US planes)
Hawaiian
US Airways (on US or United planes, $50 surcharge for travel to Hawaii) r/t price of 40,000 miles charged for a oneway
Delta r/t price of 40,000 miles charged for a oneway
Alaska (on Alaska, AA, or Delta planes) don't have any Alaska miles
Korean (on Hawaiian planes) transfer partner of Chase, but r/t price of 30,000 miles charged for oneway
United is a good option. They have a lot of daily flights LAX-HNL with good coach availability. United charges 20,000 miles for a oneway, though, and I value 20,000 United miles at $362, so I'd like to find a better option.
Another option was American, which charges 22,500 miles to fly oneway to Hawaii during the summer. I already know from yesterday's post that there is no availability on American flights, so in reality I'd be using American miles to fly on a Hawaiian plane. That would be a crazy redemption, since I can use 17,500 Hawaiian miles to fly on Hawaiian planes. 22,500 American miles are worth way more than 17,500 Hawaiian Miles.
That meant the cheapest way to get to Hawaii was with 17,500 Hawaiian Miles. I headed for Hawaiianair.com, signed into my account, and clicked on Book an E-Award Now in the top right corner of the Hawaiian Miles screen. After typing in my dates and searching for a oneway from LAX-HNL, I was brought to this screen: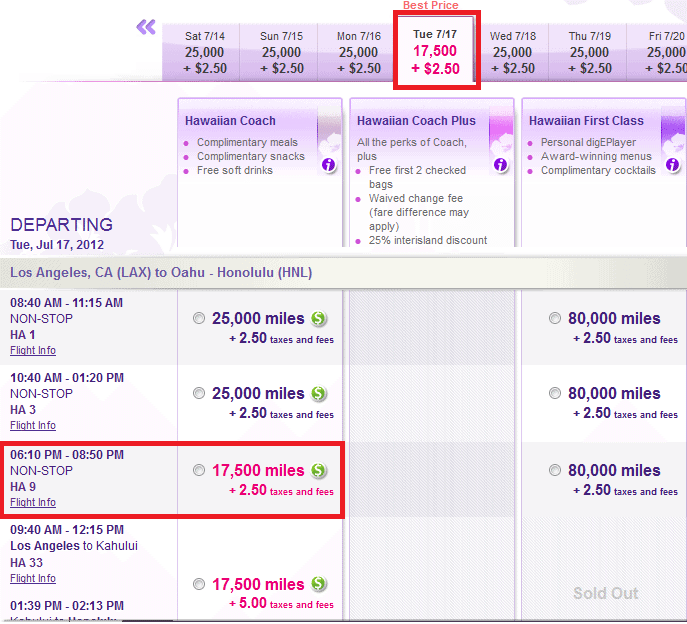 For the week surrounding my dates, there is only one day with the 17,500 mile price. Selecting that date, there is one nonstop with the 17,500 mile price.
At this point, I would have loved to have booked, but my Hawaiian Miles account balance was in the hundreds not thousands. Luckily, Hawaiian is one of the few airlines that allows members to share miles for free.
To transfer miles, the recipient must have an active Hawaiian Airlines Credit or Check Card. (The giver of the miles does not have to have a Hawaiian Airlines card.) If that requirement is met, you can share miles. How?
When you first sign in to Hawaiian Miles, along the left side, there is a link that says Share Miles: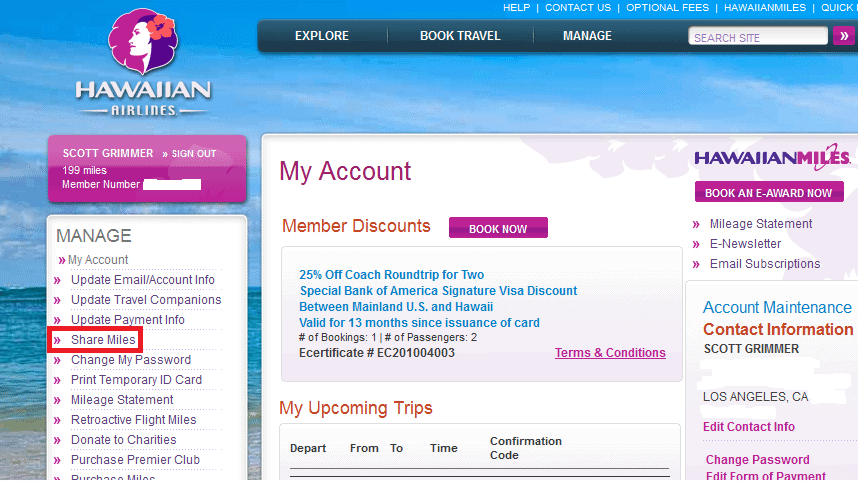 Clicking that takes you to a form in which you input the number of miles, the recipient's last name, and the recipient's Hawaiian Miles number.
Luckily my dad flies tons of paid interisland flights in Hawaii, so he was able to transfer me the miles I needed. The miles posted instantly, and I booked the flight using the same process I used earlier in this post to search for the flight. The total cost was 17,500 Hawaiian Miles and $2.50.
Here is some info about the booking:
LAX-HNL cost: $380
My subjective value of the itinerary: $380+, I would have paid cash if necessary
Hawaiian Miles needed: 17,500
Total taxes and fees: $2.50
Miles foregone by not purchasing itinerary: 2,556
Cents per mile as booked: 1.88! according to the milevalue calculator. (I plugged 380; 2.5; 17500; 2556 into the calculator. Do you see why?)
I'm pretty happy with the booking. I haven't done a valuation series on Hawaiian Miles, but I know they're worth less than 1.88 cents on average since they are worth less than American and United miles, which are both less than 1.88 cents per miles. Also I saved $378, which I plan to spend on buying one frozen dinner at a grocery story in Hawaii. Seriously, have you seen the food prices in Hawaii!?
---
Editorial Disclaimer: The editorial content is not provided or commissioned by the credit card issuers. Opinions expressed here are author's alone, not those of the credit card issuers, and have not been reviewed, approved or otherwise endorsed by the credit card issuers.
The comments section below is not provided or commissioned by the bank advertiser. Responses have not been reviewed, approved, or otherwise endorsed by the bank advertiser. It is not the bank advertiser's responsibility to ensure all questions are answered.
If you liked this post, sign up to receive one free daily email every morning with all of the day's posts! You can also follow MileValue on Twitter and Facebook.