A few months ago you could book Lima to Cuzco on ba.com with Avios. I made that redemption for family members for an incredible 4,500 Avios and $9 in taxes per person.
Lima to Cuzco meets the three criteria to be an ideal British Airways redemption.
Direct flight (because each segment adds to an Avios award's cost)
Short flight (because each segment is priced by its distance)
No fuel surcharges (because Avios charges nasty fuel surcharges on a lot of awards)
With my personal experience booking the award, I was surprised to get an email from a reader saying that she couldn't book Lima to Cuzco online because ba.com doesn't list Cuzco as a destination.
She is totally correct that ba.com no longer lists Cuzco as a possible airport in award searches. Performing the following search…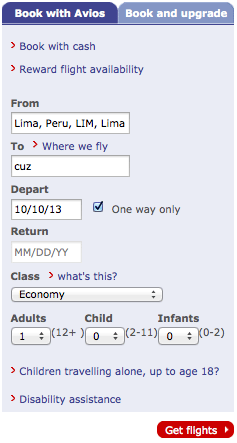 …leads to an airport code auto-correct screen…

…and trying to search by country is a dead end too.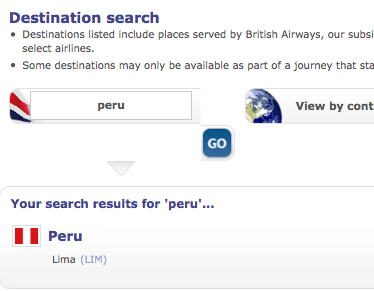 With the intra-Peru space no longer showing on ba.com, I don't think it's available anywhere online. That doesn't mean you can't book intra-Peru space with Avios. It just means you have to call British Airways to book at 800-AIRWAYS.
I called today to test out availability. I picked an arbitrary date–October 10–and told the agent I wanted one economy class seat from Lima to Cuzco.
LAN flies the route 15 times on October 10, and there was an award seat on at least the first five flights of the day.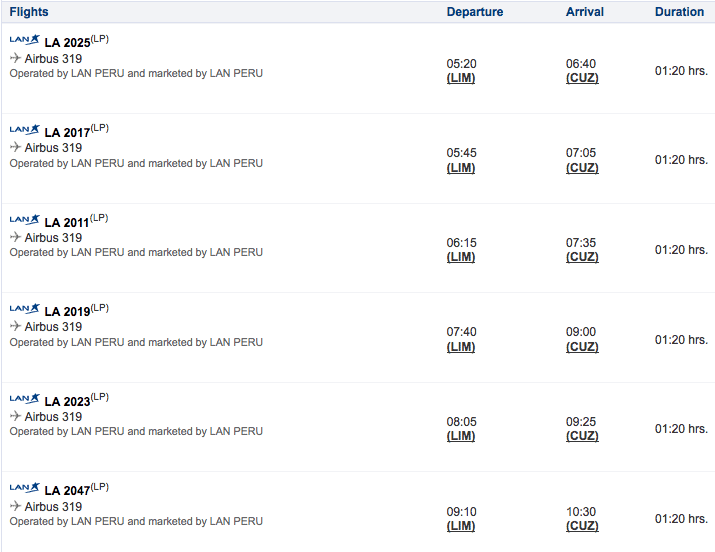 The wide open award availability didn't surprise me. The story was the same when the space was on ba.com, and space tends to improve the harder it is to book like when you have to call in and specifically request it.
I told the agent I wanted to book the 7:40 AM flight. He quoted me a price of 4,500 Avios plus $34.40 "including all taxes and fees."
He didn't break it down, so I asked him: "Does that include a $25 phone fee?"
"Yessir."
I followed up: "Can I have that waived because this is not bookable online?"
"Be right with you."
He returned to the line in about 60 seconds to tell me that the price was now 4,500 Avios plus $9.40.
So it's now a three-step process to book intra-Peru flights with Avios.
Look up the LAN schedule to figure out what flight you want.
Call 800-AIRWAYS and have an agent find you the space.
Ask for the phone fee to be waived.
I don't expect that it's only intra-Peru space that's disappeared from ba.com. If the award you want is not searchable online, you should call British Airways.
---
Editorial Disclaimer: The editorial content is not provided or commissioned by the credit card issuers. Opinions expressed here are author's alone, not those of the credit card issuers, and have not been reviewed, approved or otherwise endorsed by the credit card issuers.
The comments section below is not provided or commissioned by the bank advertiser. Responses have not been reviewed, approved, or otherwise endorsed by the bank advertiser. It is not the bank advertiser's responsibility to ensure all questions are answered.
If you liked this post, sign up to receive one free daily email every morning with all of the day's posts! You can also follow MileValue on Twitter and Facebook.