Award space is wide open in Business Class on Austrian flights from Los Angeles to Vienna for Spring and Summer 2017 for 2-6 people per flight. Flat bed award space from the West Coast to Europe is rare, so hop on this now!
Product
Austrian Business Class features a staggered layout so that your bed's foot area is under the arm rest of the row in front. This is not ideal because you can feel a little cramped, but this is a mere quibble with a flying flat bed.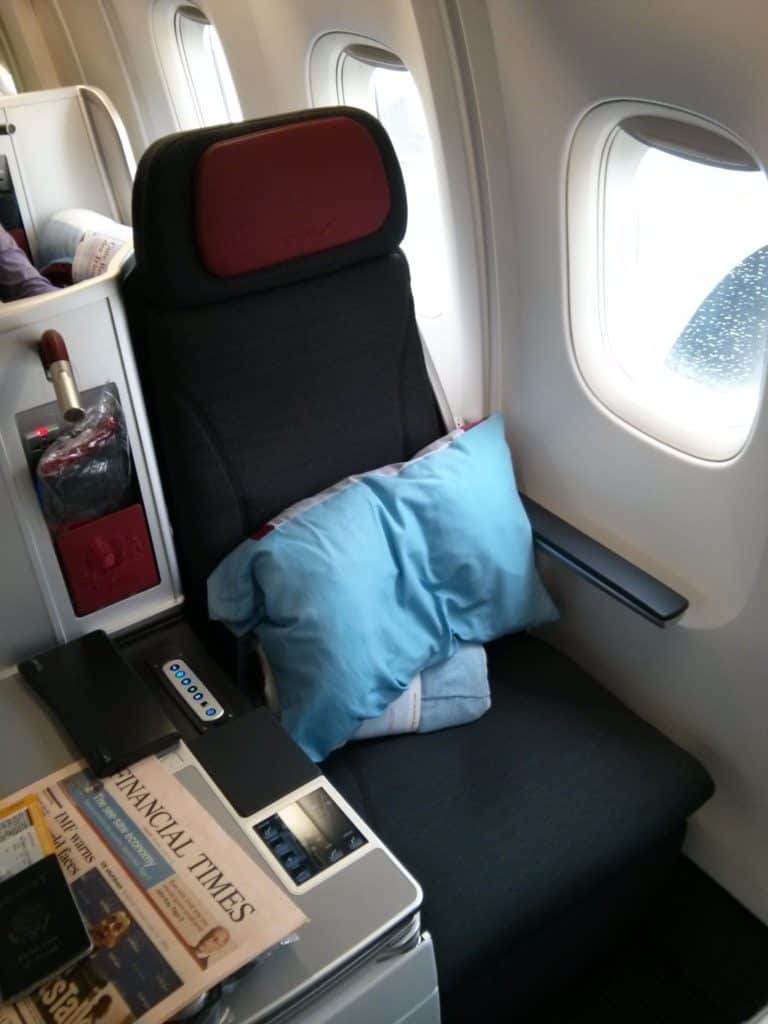 I flew the product in 2013 from Vienna to Chicago, and I was impressed by the food (prepared by an onboard chef.) Others rave about the coffee selection.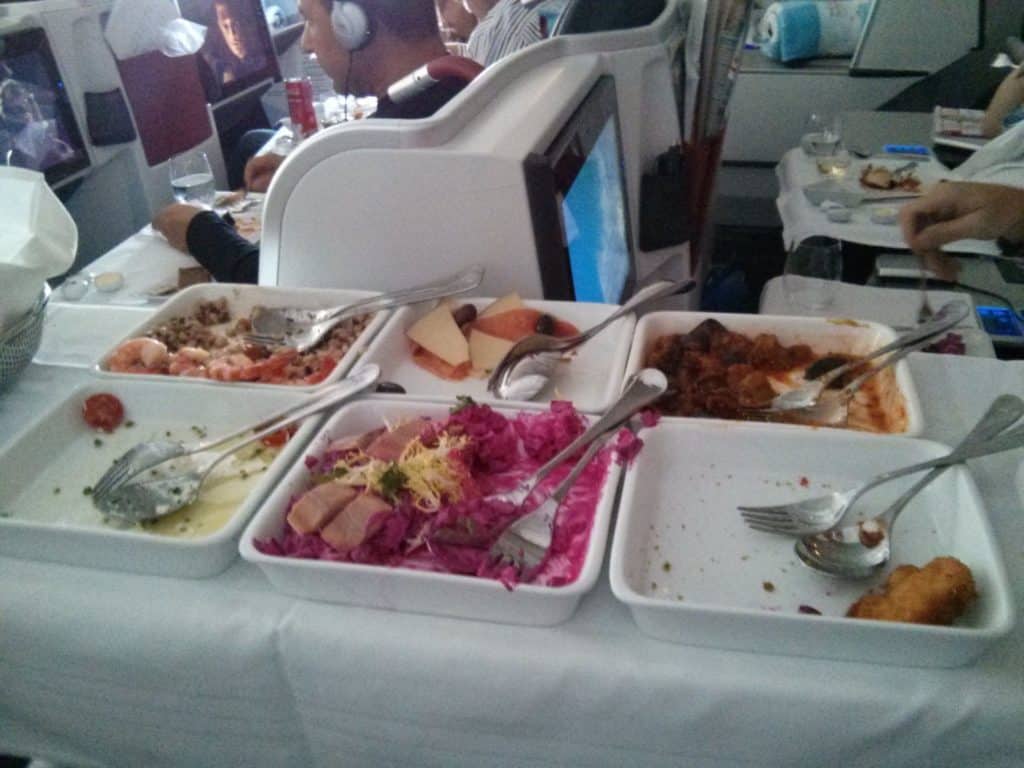 Award Space
Award space is wide open for 2-6 people in Business Class from Los Angeles to Vienna and back.
Connections are widely available to/from Los Angeles and to/from Vienna for no extra miles. From Vienna, Austrian serves all these destinations:
Award Space to Vienna
All screen shots in this post show award space for two people. Dotted lines indicate Saver Business Class award space; solid lines indicate Saver economy award space.
Los Angeles to Vienna starts five times a week on April 10, 2017 and increases to six times a week in June 2017.
Here is the award space for six people on the direct flight.
You can see that basically every day has economy award space for six people and most days have Business Class award space for six people. If you look for award space for only two people, even more days have Business Class award space.

Award Space Back from Vienna
Here is award space for two people from Vienna to Los Angeles. Almost every day has economy and Business Class award space.
Cheapest Miles
The award space is on Austrian Airlines planes, but you can use any Star Alliance mils to book it. Here are the award prices for this award space one way between the United States and Europe with different types of Star Alliance miles.
Let me explain a few things:
United has two award charts. The cheaper one for flying United (or mostly United if you follow these rules) and the more expensive one is to fly its partners like this Austrian route.
Aeroplan divides Europe into two regions. The cheaper region is for Western Europe (including Vienna) and the more expensive region is Eastern Europe. You can see the complete region definitions here.
United, Copa, and LifeMiles don't collect fuel surcharges on Austrian flights. Asiana, ANA, Singapore, Lufthansa, and Aeroplan do.
You can figure out the fuel surcharges by calling the airline whose miles you want to use or just looking on ITA Matrix. In this case, Los Angeles to Vienna roundtrip in Business Class has $873.50 in fuel surcharges (YQ + YR) and $1,005 in taxes plus fuel surcharges.
Often fuel surcharges vary dramatically by route, so I also searched Los Angeles to Oslo roundtrip because I have seen low fuel surcharges out of Oslo before. It also had about $1,000 in taxes and fuel surcharges.
However, a one way ticket from Oslo to Los Angeles in Austrian Business Class has only 1883 Norwegian Krona ($227) in taxes and fuel surcharges.
For a one way award back from Europe on a low-surcharge route, I'd use 40,000 Asiana miles for Business Class and pay the fuel surcharges. For a roundtrip, I'd rather pay 126,000 LifeMiles or 140,000 United miles to avoid fuel surcharges.
Getting the Miles
The only ways to get Asiana miles are from the Asiana credit card or transfers from SPG points.
The easiest way to get LifeMiles is to buy them when they are on sale for under 1.5 cents like they are until September 30, 2016. You could buy enough LifeMiles for a roundtrip award in Asiana Business Class for under $2,000, which is quite a bit under the retail price of the flights.
The easiest miles to get are United miles since United releases several credit cards and is a 1:1 transfer partner of Ultimate Rewards.
Right now the Chase Sapphire Reserve comes with 100,000 bonus points after spending $4,000 on the card in the first three months.

The card earns 3 points per dollar on travel and dining expenses and 1 point per dollar on everything else.
After spending that $4,000 in the first three months, you will end up with at least 104,000 Ultimate Rewards–more if some of that $4,000 was spent on travel or dining. That's almost enough (115,000 miles) for a roundtrip United award in Business Class to Europe.
The card also offers a $300 statement credit each calendar year to offset travel expenses including the taxes you'd pay on the United award. (And including hotels, car rentals, or flights in Europe.)
Bottom Line
There is excellent Austrian Business Class award space from Los Angeles to Vienna next spring and summer for up to six people with connection options throughout the United States and Europe. West Coast to Europe Business Class award space for so many people is almost unheard of.
Book the space with any Star Alliance miles. I recommend Asiana miles for one ways from Europe to the US and United miles or LifeMiles for roundtrip awards.