After a few days in New York last month, I took a 16 hour flight in Cathay Pacific First Class from New York-JFK to Hong Kong. It was the second best flight of my life (behind only Emirate First Class); I can't recommend Cathay Pacific First Class highly enough.
That said, the ground services in New York were abysmal. (To skip them and get to the flight review, click here.) When I showed up at the Cathay Pacific check in area, I only saw Economy Class counters and this line out the door:
An agent directed me to the First Class check in area that British Airways operates for Cathay Pacific.
Check in and security were smooth, and I made my way to the British Airways First Class lounge.
The British Airways First Class Lounge is one of the worst First Class lounges I've been in.
It's a lot better than your basic airport lounge, but it didn't have the things First Class lounges around the world have:
Food to order, awesome buffets, or both
Waiters
Fantastic seating areas
Showers
Nap rooms
Quiet and seclusion (exclusivity)
Instead, it was a room a room with dozens of people in tight quarters who had access to a lackluster breakfast buffet and a small self-service bar.
The best parts of the morning buffet were the berries and the instant noodles.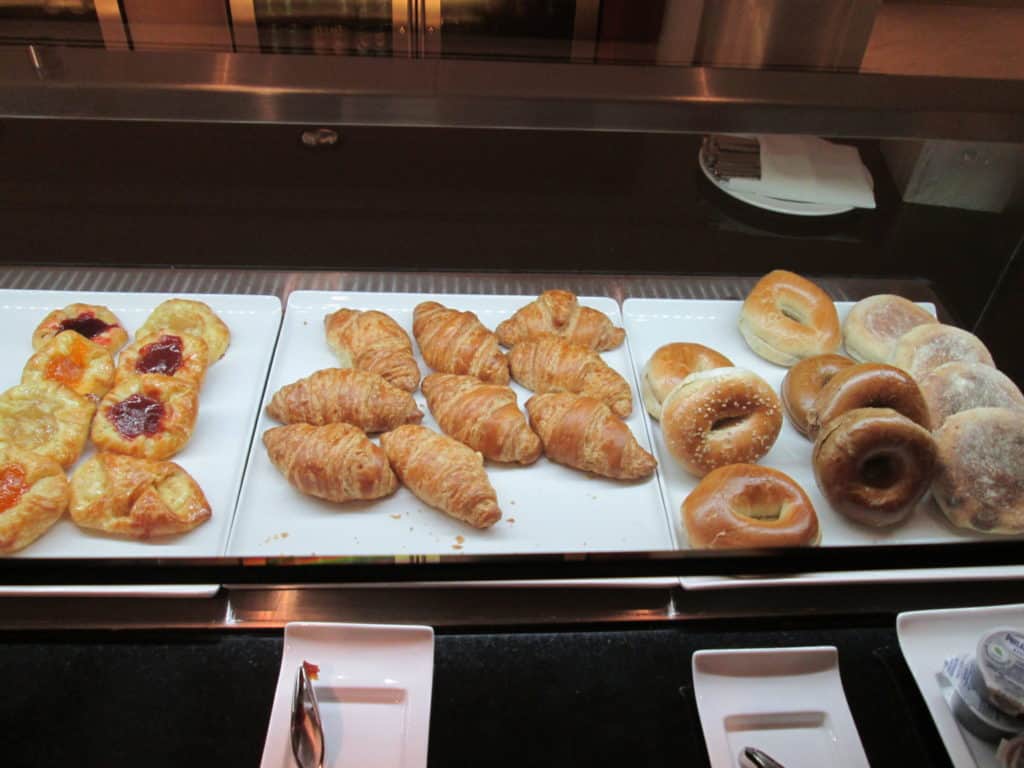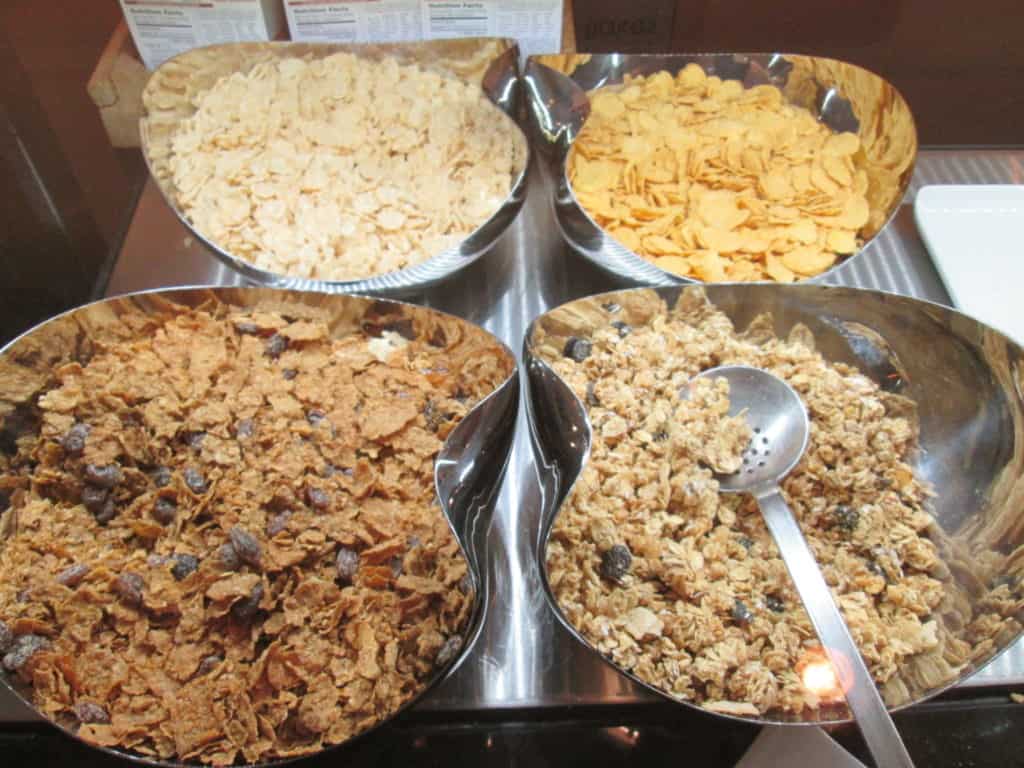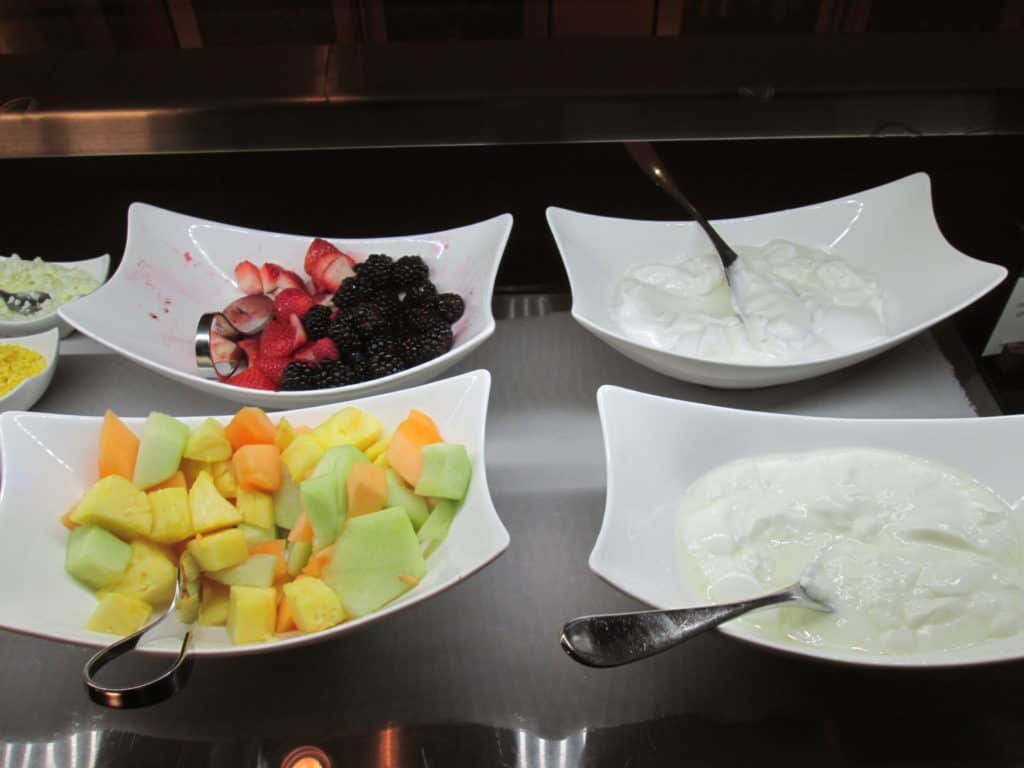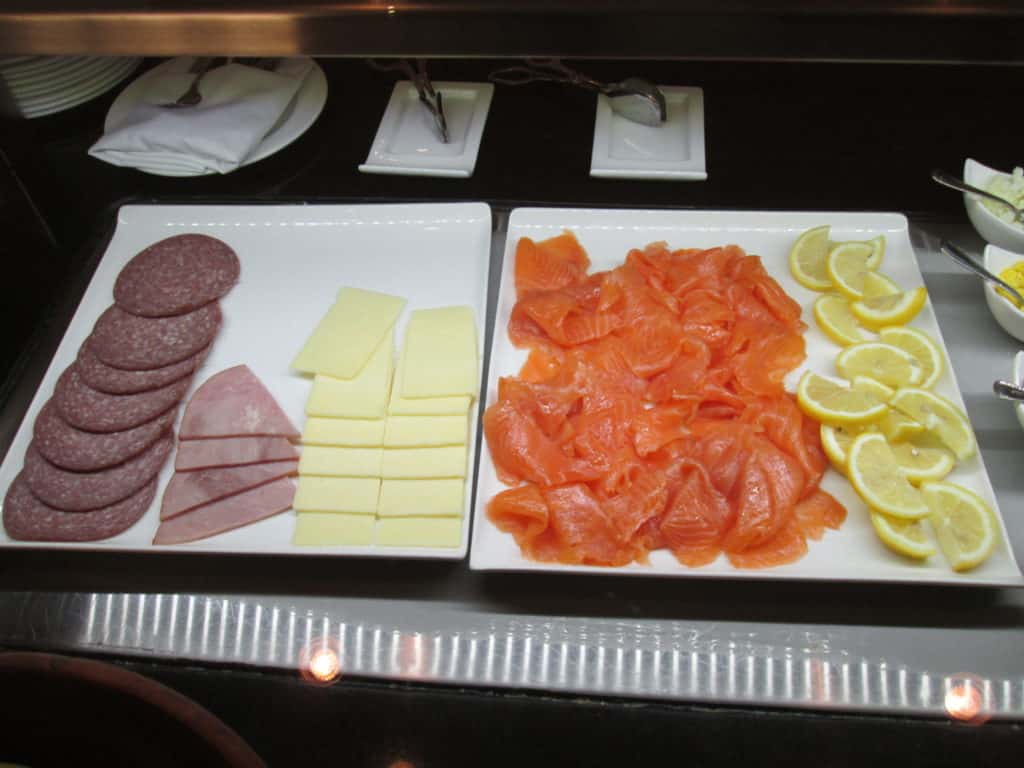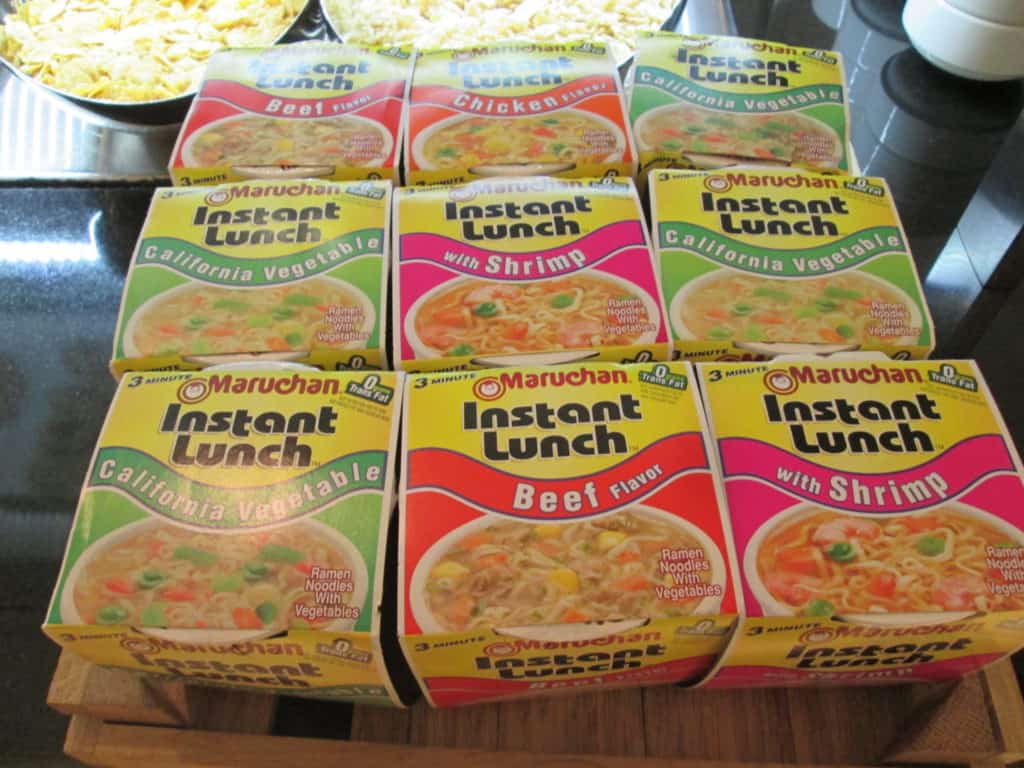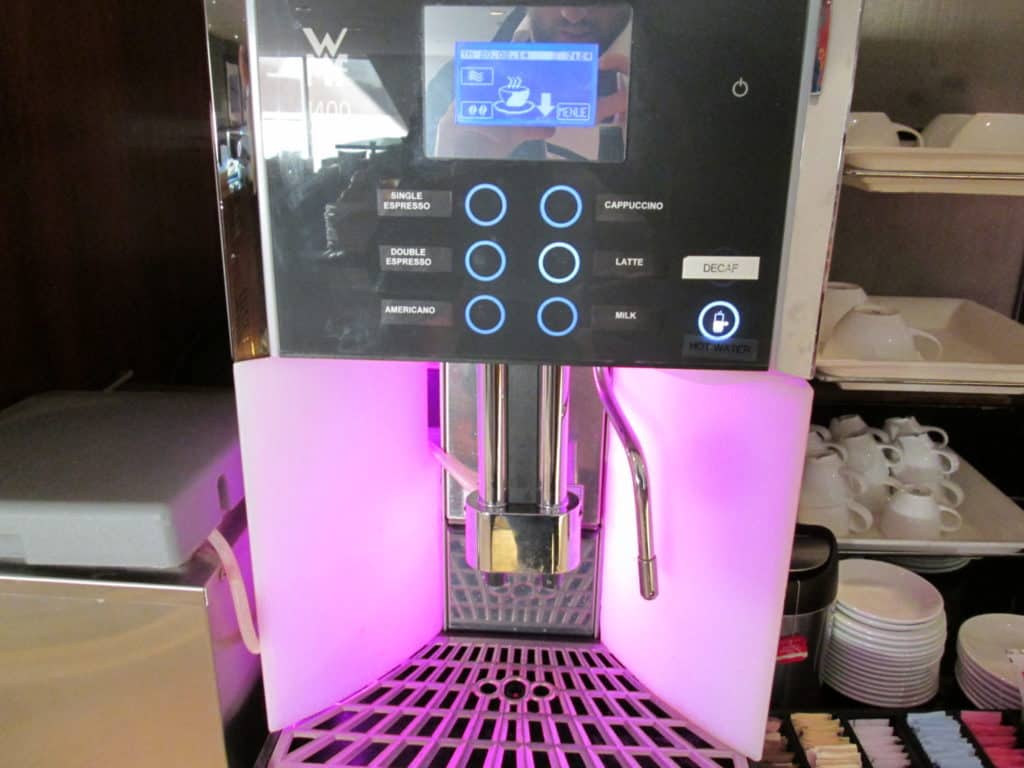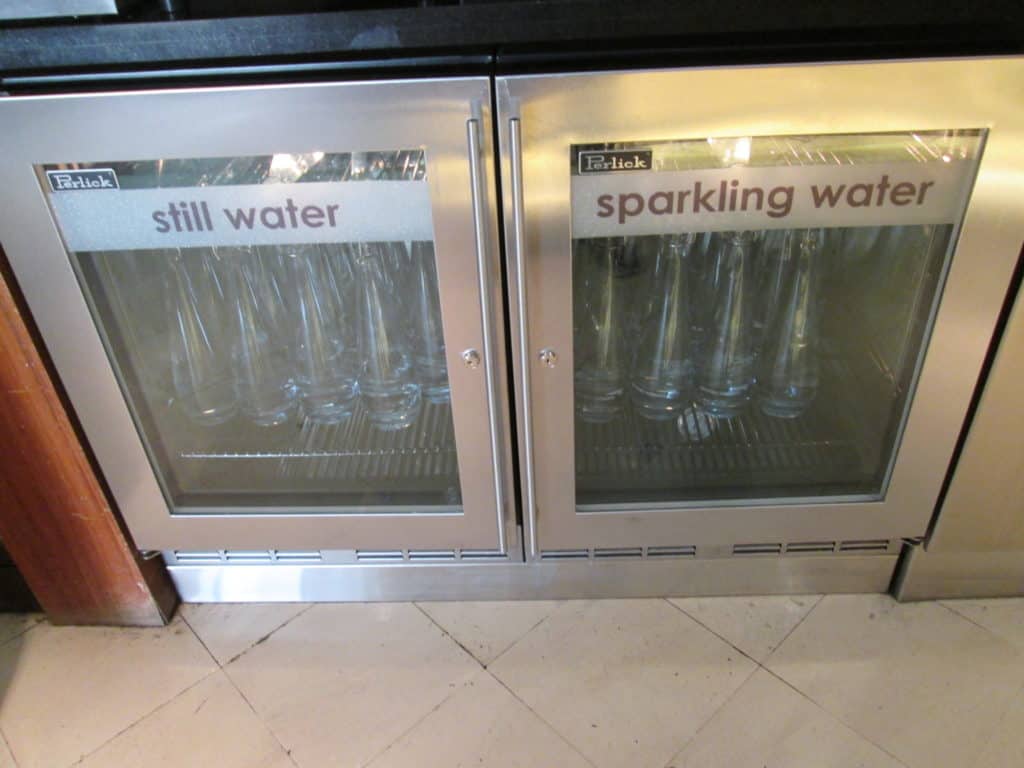 There was a good alcohol selection, but it was 7 AM, so I didn't test it out.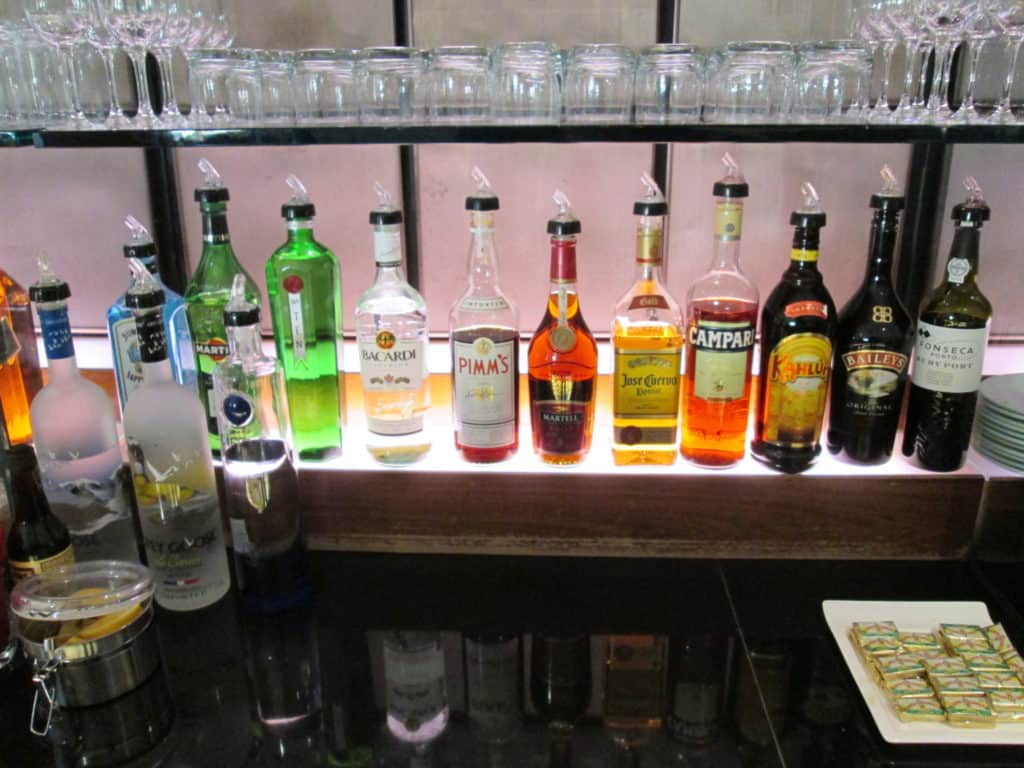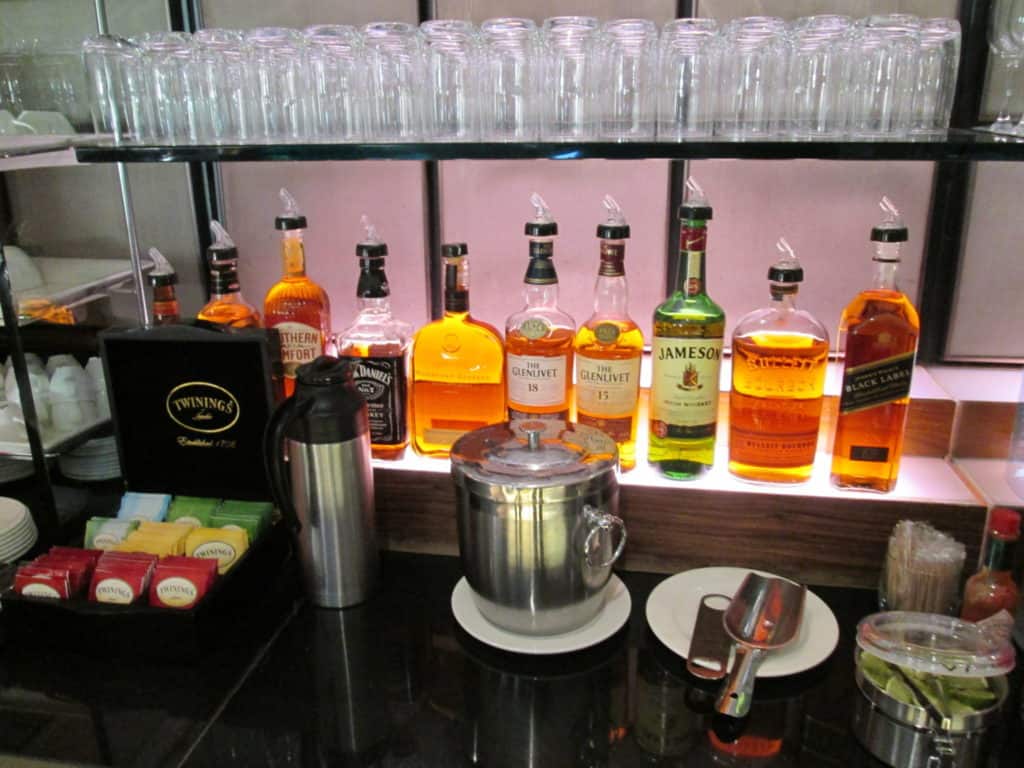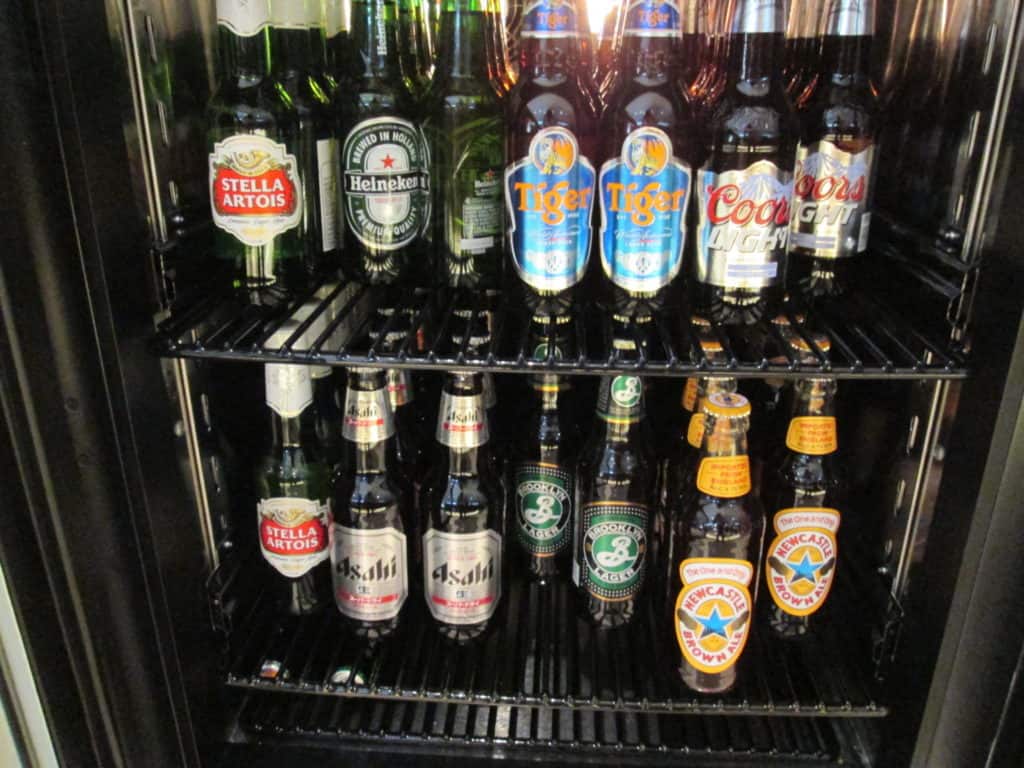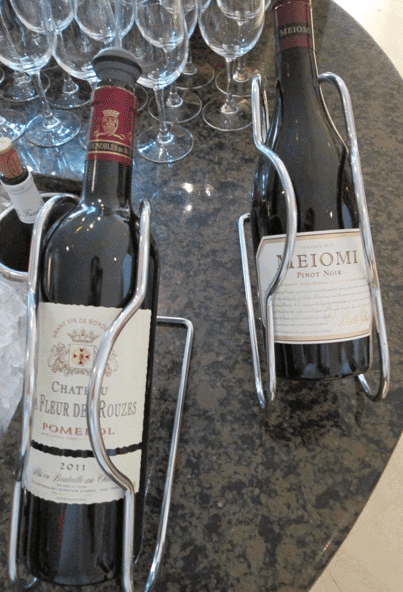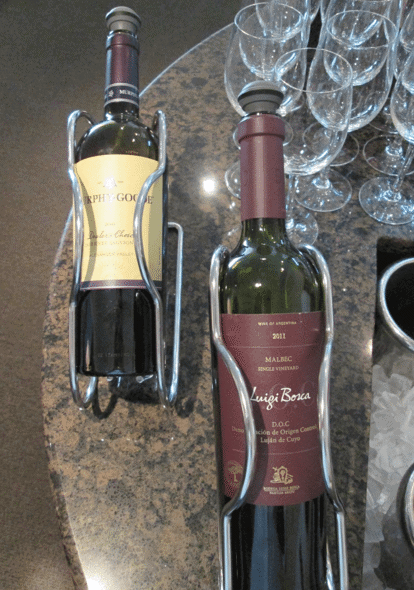 Everyone else in the lounge working hard, so I grabbed some fruit and cereal and used the speedy wifi to download a few shows for the flight.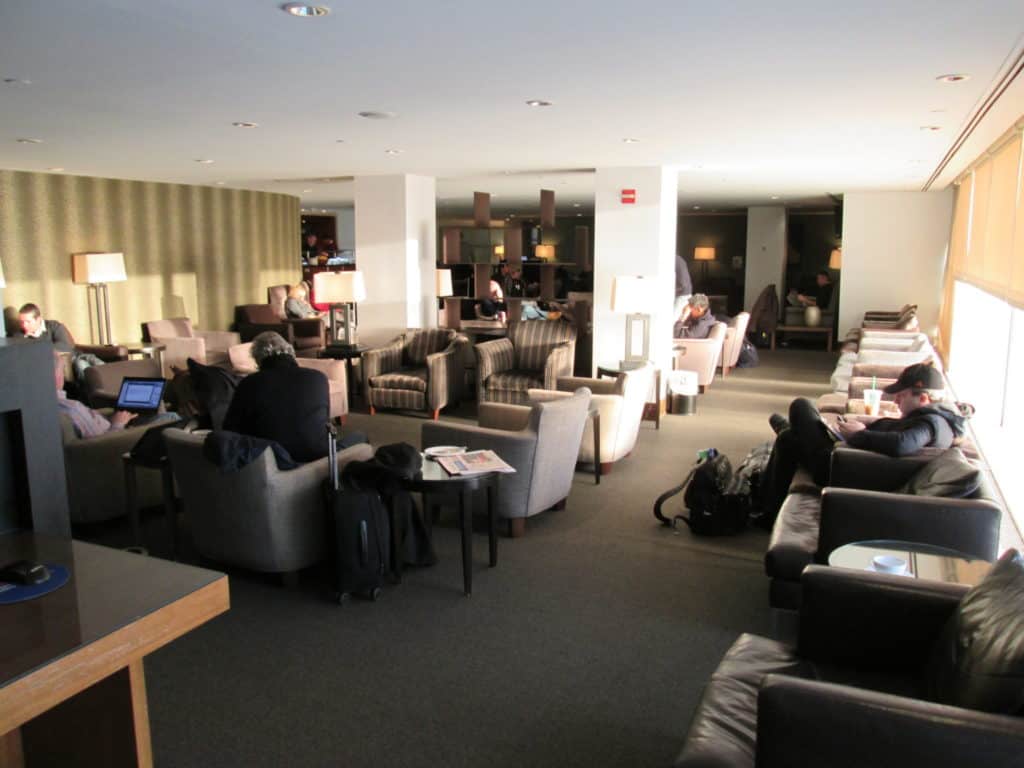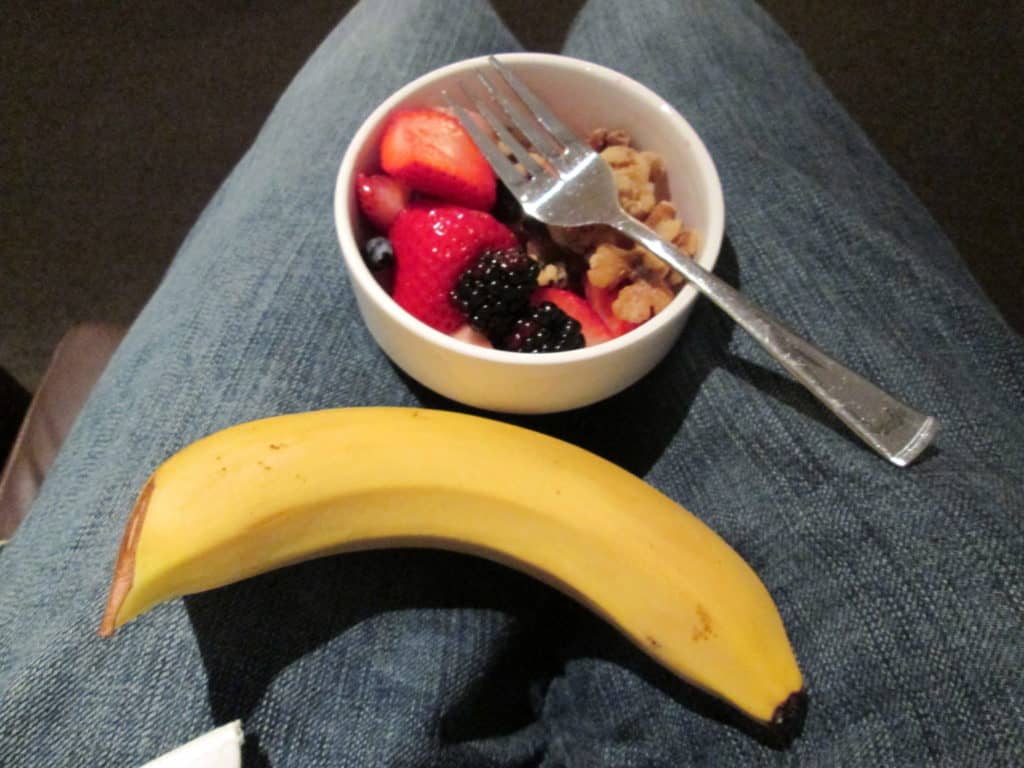 When it was almost time to board, I headed to the gate and saw the 777 waiting for me.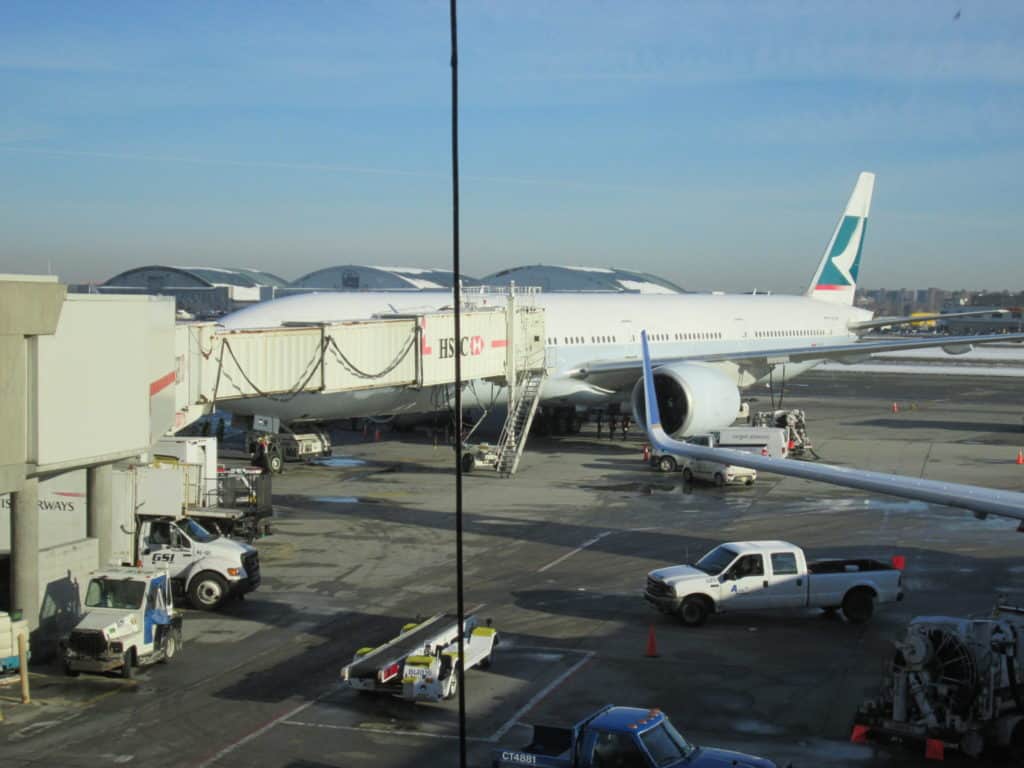 Unfortunately boarding continued the theme of atrocious ground service. No queuing was evident as the mob waited. The ground staff was not able to board First Class first, and I was stuck behind 15 people on the way down the jet bridge.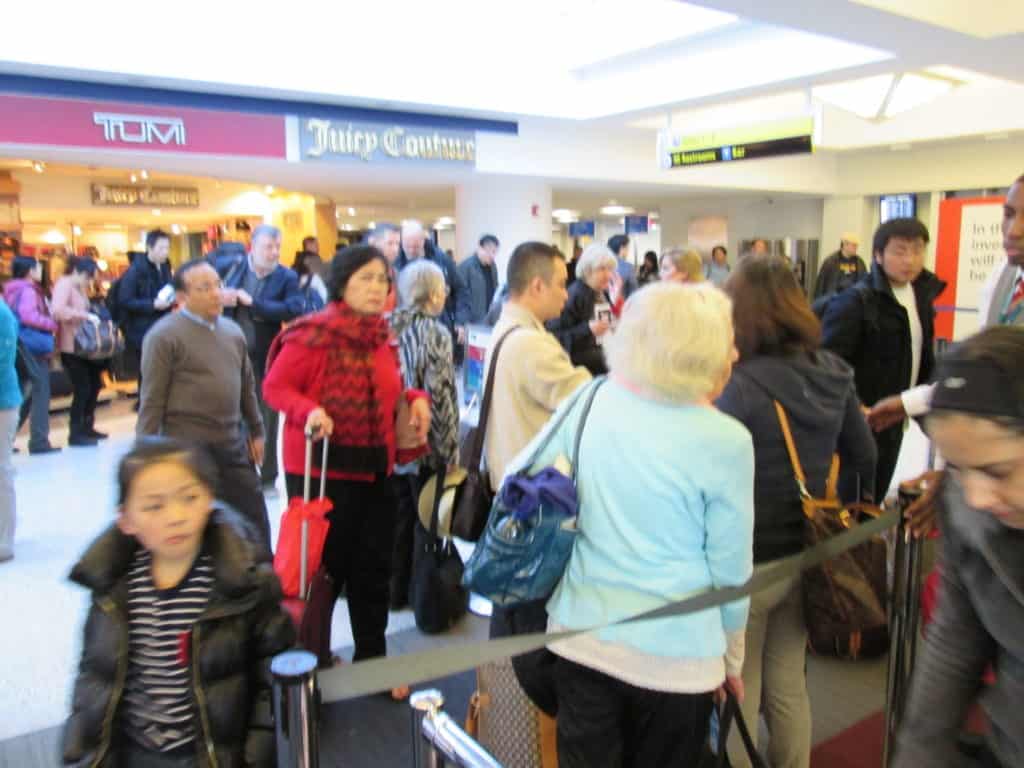 Finally, I got to the aircraft door though, and that's where the story changes. If the ground services were worthy of Ryanair, the flight itself was worthy of the hype accorded to Cathay Pacific First Class, one of the world's best commercial flying experiences.
Cathay Pacific 841
New York (JFK) – Hong Kong (HKG)
Depart: 9:00 AM on Thursday, February 20, 2014
Arrive: 2:20 PM on Friday, February 21, 2014
Duration: 16hr20min
Aircraft: Boeing 777-300ER
Seat: 2K (First Class)
The next 16 hours were spent relaxing, sleeping, eating, and being doted upon by an incredible crew.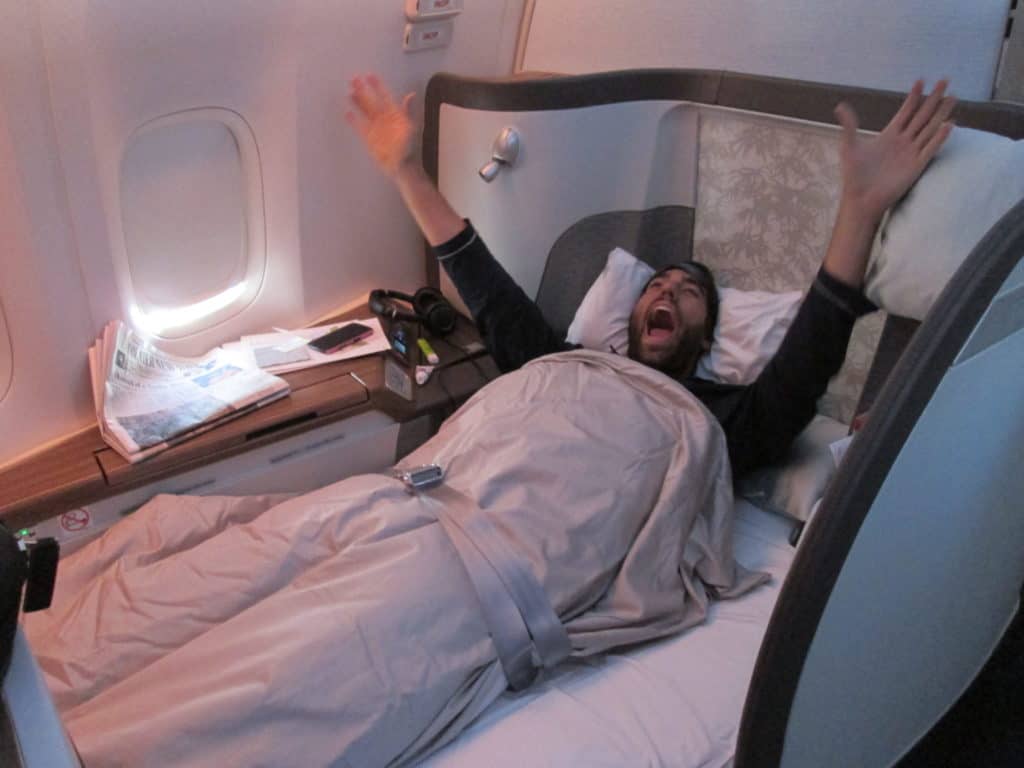 How was the seat, bed, food, entertainment, and service? (with tons of pictures)
------------------------------------------------------------
Editorial Disclaimer: The editorial content is not provided or commissioned by the credit card issuers. Opinions expressed here are author's alone, not those of the credit card issuers, and have not been reviewed, approved or otherwise endorsed by the credit card issuers.
If you liked this post, sign up to receive one free daily email every morning with all of the day's posts! You can also follow MileValue on Twitter and Facebook.
The Chase Sapphire Reserve comes with 100,000 bonus Ultimate Rewards after spending $4,000 in the first three months that you can transfer to United miles, Singapore miles, Southwest points, British Airways miles, or use for 1.5 cents each toward any flight, hotel, or car rentals.
Plus the card offers $300 in credits toward any travel purchase each calendar year, which is $600 in your first 12 months of cardmembership, $100 toward Global Entry, and worldwide lounge access. Basically it's the best credit card ever, even with a $450 annual fee.