I earn a commission for some links on this blog. Citi is a MileValue partner.
When you get to the payment page of booking an award with British Airways Avios, you're offered a rare proposition in the world of frequent flyer miles:
pay the stated amount of Avios + taxes and fuel surcharges
pay 50-90% of the stated amount of Avios + taxes, fuel surcharges, and an extra cash co-pay.
This extra-cash-plus-Avios option is one to consider in advance, so I'll do the work, so you can do the travel.
What's your best play?
I tried to price out the 12 oneworld partners in different cabins on domestic and international routes.
For some routes, no Cash & Avios option is offered. In that case, the price is listed like this.

Flights on Japan Airlines, Cathay Pacific, and S7 didn't offer a Cash & Avios option.
The other nine oneworld partners' flights did offer Cash & Avios options. When offered, the menu looks like this with six options from 100% to 50% of the normal Avios price.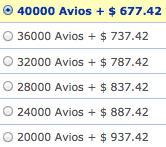 I'm comparing only the top and bottom–100% Avios and 50% Avios prices–because while there is a slight variation in the prices of each tranche, it doesn't factor into the analysis much.
Conceptually I think of the top line as the price of the award, in the example above 40k Avios + $677, which is mostly fuel surcharges. The bottom price is 20k Avios + $937. That means I could save 20k Avios by paying $260 more. Saving 20k Avios by paying $260 more is like buying 20k Avios for $260, 1.3 cents each.
The question becomes: would I "buy" the Avios at the price offered by the Cash & Avios "price"?
That price varies greatly. There seem to be three points around which it groups: 1.3, 1.92, and 2.56 cents. The lowest price is mainly offered on economy awards. The middle price is mainly offered on first class awards. The most expensive price is mainly offered on business class awards.
My stated value for Avios is 1.7 cents, so I certainly wouldn't buy Avios for 1.92 cents each or more. That means I never take advantage of the Cash & Avios option when the required out-of-pocket component to save Avios is that expensive.
I have, in the past, used the minimum Avios required ("bought 50%") when offered the chance at 1.3 cents. I do not think this is automatic. I would never buy at the 1.9+ cent prices, but I wouldn't always buy at 1.3 cents. I would only buy at 1.3 cents if I didn't have many Avios and wanted to conserve the ones I did have.
The decision depends on a lot of idiosyncratic factors like one's value of Avios, how much money one has at the time, how many Avios one has at the time, how often one uses Avios, what other prospects one has to get Avios and more.
Since a lot of my favorite redemptions involve Avios, I want to keep 100k+ on hand. If a redemption will take me under 100k and on that redemption, I'm offered the chance to save Avios by paying 1.3 cents per Avios, I'll take the offer.
Your decision may be different.
Have you seen similar prices with Cash & Avios awards? Under what circumstances, do you take advantage of the Cash & Avios option?
Raw Data with Outliers Bolded
airberlin International Economy: 1.28 cents per Avios
LAN Domestic Economy: 1.28 cents per Avios
American Airlines International Economy: 1.29 cents per Avios
British Airways International Economy: 1.3 cents per Avios
Iberia International Economy: 1.3 cents per Avios
Malaysia Airlines International Economy: 1.3 cents per Avios
Royal Jordanian International Economy: 1.3 cents per Avios
Royal Jordanian International Business: 1.3 cents per Avios
Qantas Domestic Economy: 1.3 cents per Avios
Qantas Domestic Business: 1.3 cents per Avios
Malaysia International First: 1.92 cents per Avios
American Airlines International First: 1.92 cents per Avios
British Airways International First: 1.93 cents per Avios
LAN International Business: 2.56 cents per Avios
airberlin International Business: 2.56 cents per Avios
American Airlines International Business: 2.57 cents per Avios
Malaysia International Business: 2.575 cents per Avios
Iberia International Business: 2.575 cents per Avios
British Airways International Business: 2.575 cents per Avios
S7 Domestic Business: Cash & Avios not offered
S7 International Economy: Cash & Avios not offered


JAL International First: Cash & Avios not available
Cathay Pacific International Business: Cash & Avios not offered
Cathay Pacific International First: Cash & Avios not offered