Update: There are two flights on 1/31. The 8:35 PM flight number 963 is on the 777-300ER, though I'm not sure who "Steve" is.

American Airlines business class used to stink. While United, Delta, and US Airways all had fully flat beds in business class on at least some of their flights, all AA flights had angled lie flat seats at best in business class.
That is about to change when American's new 777-300ER comes into service with beautiful flat beds in business class, all with aisle access.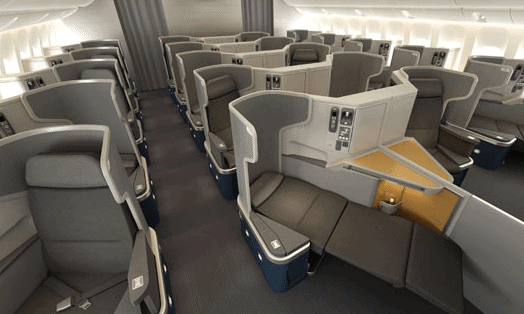 The plane also features a cool entry way that looks more like a Las Vegas club than the airplanes I'm used to walking onto.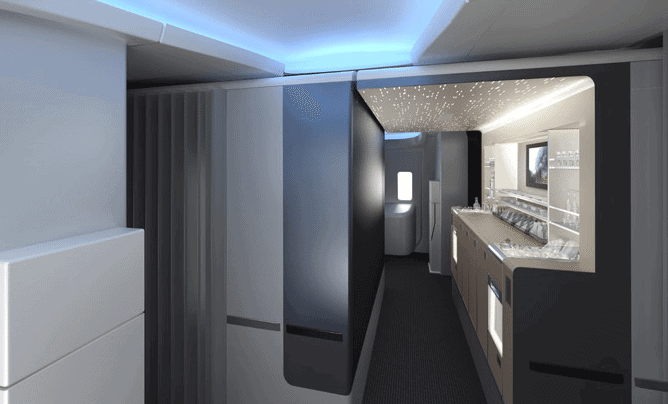 How can you get on?
The 777-300ER's first route will be from Dallas/Fort Worth (DFW) to Sao Paulo (GRU) six days a week in February.

The southbound AA 963 will leave Dallas at 8:35 PM and land in Sao Paulo at 9:30 AM the next day.
The northbound AA 962 will leave Sao Paulo at 12:55 AM and land in DFW at 7:20 AM the same day.
The 777-300ER will not be on the route long. According to the press release, the plane will only fly DFW-GRU from January 31 to February 28 before switching to a European route. The way to tell if a 777-300ER is on a certain route is to look at the aircraft listed. The 777-300ER's code is 77W.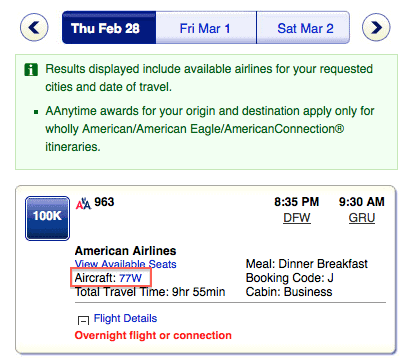 If the Aircraft is listed as 777, that is not one of the new 777-300ERs. Instead it's an older 777-200 with angled lie flat seats.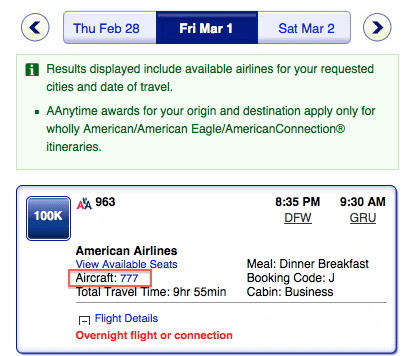 While the press release says that the 777-300ER will be on the route starting on January 31, the schedule lists that day's aircraft as 777, and the first 77W date is February 1. I'm not sure which to believe, but I would not book January 31 expecting to be on the new plane unless the listed aircraft is changed to 77W for that date.
Availability
Here are the calendars for one seat in economy, business, and first in each direction for the month the planes will operate between Dallas and Sao Paulo.
Economy Dallas –> Sao Paulo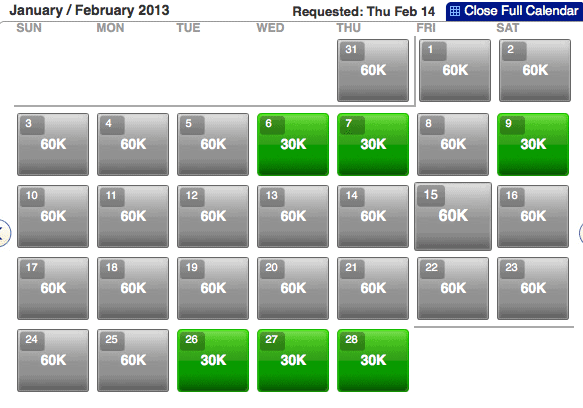 Business Dallas –> Sao Paulo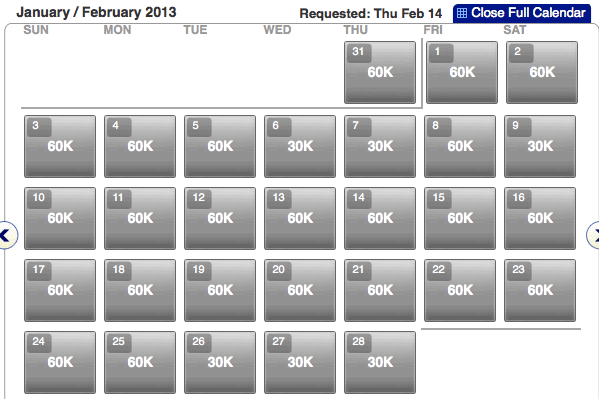 First Dallas –> Sao Paulo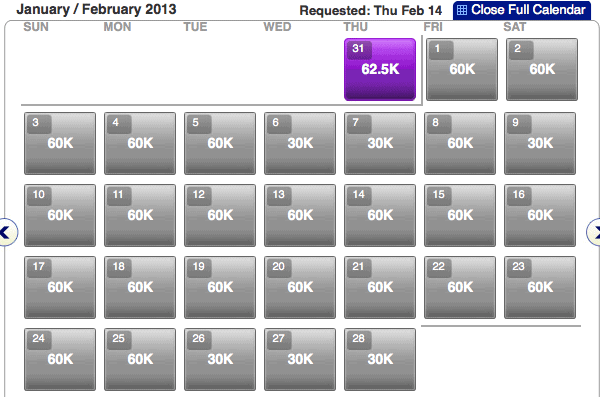 Economy Sao Paulo –> Dallas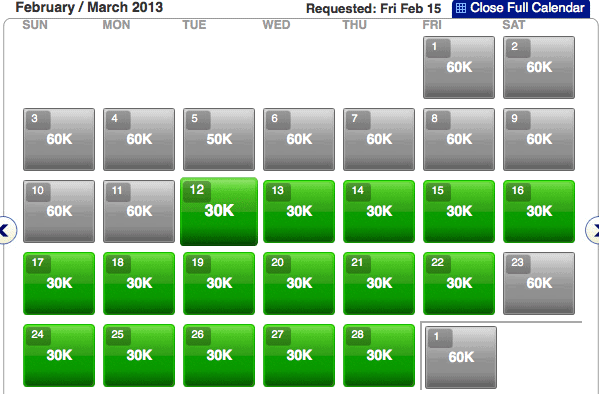 Business Sao Paulo –> Dallas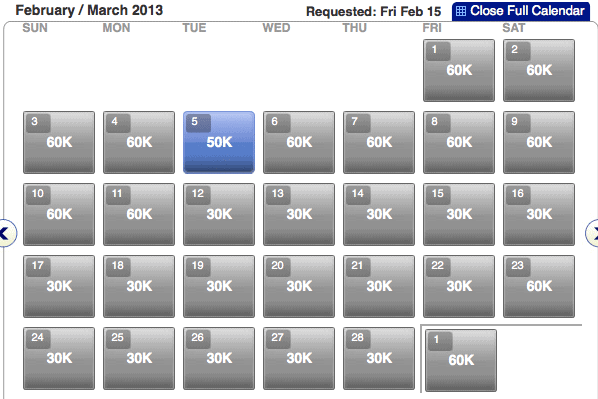 First Sao Paulo –> Dallas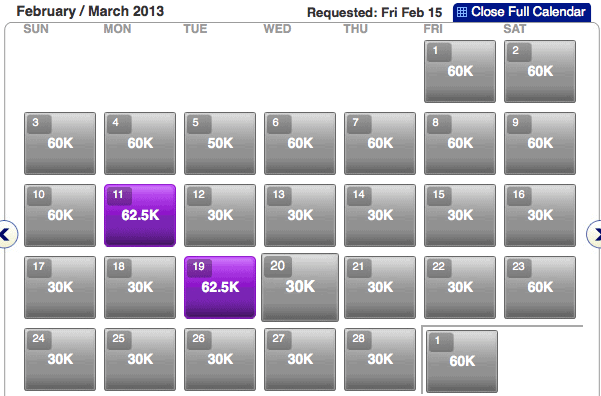 What the Calendars Say
There is better availability in economy than in the other classes, with only one day with any business class space in either direction. There's better availability returning to the States than heading to Brazil.
The Play
What's special about American's 777-300ERs? They are the first American Airlines planes with fully flat business class beds. The first class looks about the same as their other Flagship First experiences, and economy will be the same on this plane as on other planes. That means I am mainly interested in getting on this plane in business class. I certainly wouldn't book these flights in economy, since you can get to Brazil for 30k US Airways miles roundtrip.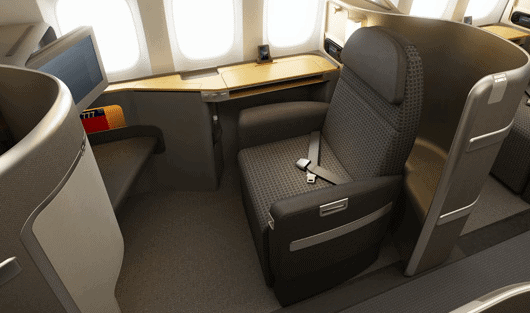 I see one intriguing premium cabin redemption that gets you in all lie flat beds. If you book the outbound on January 31 and the return February 5, you will certainly be returning in a flat bed business class product for 50k miles. The outbound will also be in a flat bed Flagship First cabin, though AA has released conflicting info on whether January 31 will be a 777-300ER or a 777-200.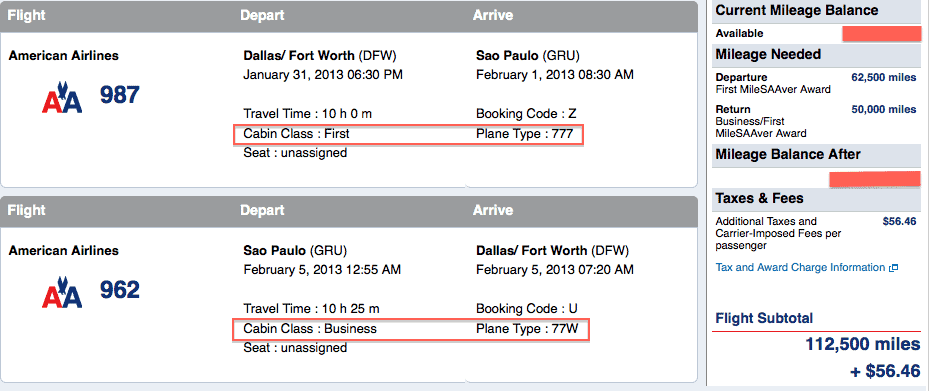 Economy/business/first cost 30k/50k/62.5k each way from the US and Canada to Brazil. That means one way in business and one way in first is 112,500 miles plus tax. Adding domestic first class to/from your home airport to Dallas will cost zero extra miles and $5 more in taxes.
If you want a free stopover in Dallas in either or both directions, you can book it as I outlined in How to Book Free Stopovers Online: American Airlines. If you live in Dallas, you can add two free oneways to the roundtrip award above as outlined in my YouTube video on the subject.
The 777-300ERs Next Routes
The fancy business class will be serving London from New York-JFK and Dallas after the Sao Paulo route. To search for that space, the concept is the same. Check for an aircraft listed as 77W.
I will look to have a post about these routes in the next few days.
How to Get American Airlines Miles
The best current offer for American Airlines credit cards is to get two at the same time for 100k total miles. You can apply for the Citi American Airlines Visa and Citi American Airlines American Express within minutes with different browsers. In my experience, my brothers' experience, my girlfriend's experience, and the experience of hundreds of FlyerTalkers, you can get approved for both.
Application Link: Citi American Airlines Visa
Application Link: Citi American Airlines American Express
The offer on both the cards linked is the same. Spend $2,500 within 4 months and receive 50k miles and two Admirals Club passes. So that's $5,000 total spending in 4 months for 100k total bonus AA miles and four Admirals Club passes–an incredible haul.
There's one hiccup. The offer page doesn't mention that deal, and the offer page may be expired. But if you can pull up the page, the deal is probably still on–certainly the deal has worked for hundreds before you. But your mileage may vary.
Here's the FlyerTalk thread bible on Citi AA offers, including information on the two-browser trick, new offers as they appear, and recent data points about whether offers are still working.
For even more AA miles, check out the Starwood Preferred Guest American Express card that comes with 25k Starpoints after $5,000 in spending in the first 6 months. Starpoints can be transferred 1:1 to AA miles with a 5,000 mile bonus for every 20k points transferred. Or you might get even more value (3+ cents) from Starwood Cash & Points stays.
Application Link: Starwood Preferred Guest American Express
Recap
American Airlines joins the 21st century with fully flat beds in business class on one plane, the 777-300ER. The plane debuts Dallas to Sao Paulo in February, and getting a premium ticket with miles will be tough, but possible.