EVA Airlines, a Taiwanese carrier, joined the Star Alliance this week. EVA Airlines flies from Taiwan to six North American cities:
New York
Los Angeles
San Francisco
Seattle
Toronto
Vancouver
And from Taiwan, you can connect all over Asia. EVA joining the Star Alliance is huge news because EVA has an incredible business class bed on many of its planes and has incredible award space for summer 2013.
Summer is the peak travel period on many routes, including the US to Taiwan, so finding award space for summer to Asia generally needs to be done months in advance or in the last few days before travel as last-second award space opens.
EVA is offering a chance to book award space all summer with your favorite Star Alliance miles–United, US Airways, Lufthansa, TACA, Aeroplan, etc.
Which is the best miles to use to book the space? Where can you search for award space? How can you make sure you're on a plane with the newest flat bed business class product?
EVA flies three-cabin planes to North America with Economy, Elite (premium economy), and Royal or Premium Laurel (business classes). As usual, you can only book economy and business with the major types of miles.
The easiest way to search for EVA economy and business award space is on aeroplan.com. You need to be an Aeroplan member, so sign up here. You should search on aeroplan.com regardless of the type of miles you'll be redeeming for seats on an EVA flight–more on which type to use later.
To search on aeroplan.com, you must sign in and select USE YOUR MILES, then Travel.

The search screen is intuitive. Below is a search for one way in business class on July 20 from Los Angeles to Taipei. I recommend checking the box that says "My dates are flexible" to get a helpful calendar of options with the search results.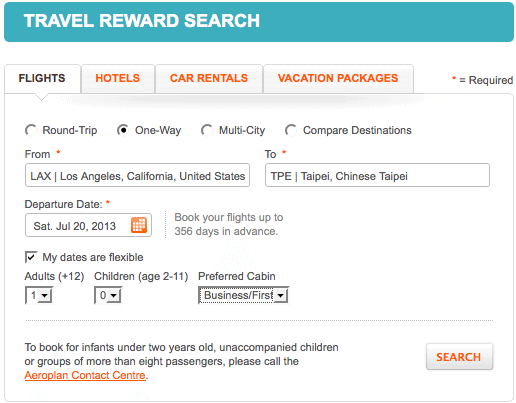 The top of the results screen is a calendar. Yellow-shaded days mean there is award space in the selected cabin–in this case business–for the selected route on that day.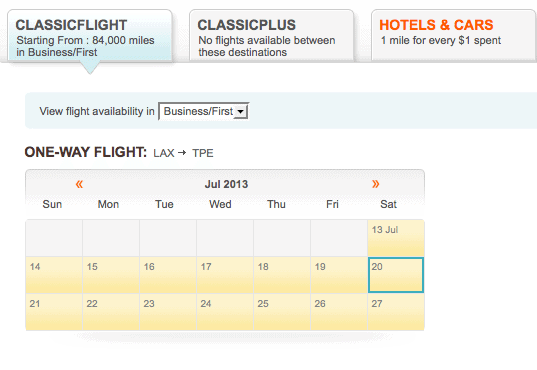 Below the calendar are the results for the day you I searched. There are three non-stop EVA flights from Los Angeles to Taipei on July 20 of this year, and all of them have business class award space!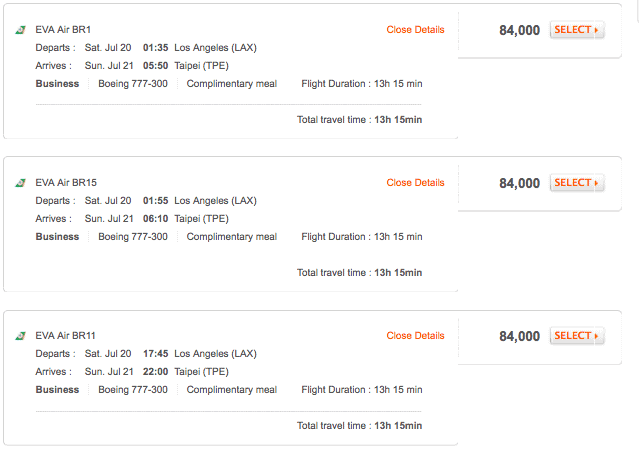 For the most part, you can ignore the 84,000 mile price. (Aeroplan charges more than half of the roundtrip price–125k in this case–for a oneway award.) This is not an award we would want to book with Aeroplan miles in most cases, and the number of miles you'll need is determined by the type of miles you use. If you do plan to use Aeroplan miles, you can book by clicking SELECT on the itinerary you want, which brings up the total price.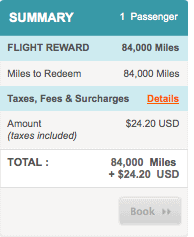 Interestingly from the price breakdown, Aeroplan is only collecting taxes on EVA awards. They are not collecting fuel surcharges. We can see that by looking at a price breakdown of this flight on ITA Matrix, which shows $24.20 in taxes and $132 in fuel surcharges (YQ).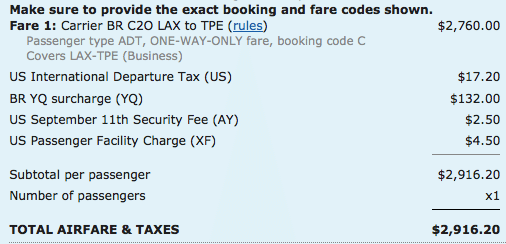 How is the Award Space?
It was a good sign that my first search showed business class availability on three flights out of Los Angeles on the same day! I searched July 20-29 from all six North American gateways to Taipei in business class and found:
Los Angeles: award space all 10 days, often on multiple flights
San Francisco: award space 6 days, often on multiple flights
Seattle: award space 5 days
New York: award space 2 days
Toronto: award space 2 days
Vancouver: no award space found
The award space is excellent to Taiwan, and intra-Asia space is even better. The pattern of return space is similar.
Anything to Look Out For
EVA has one of the best flat bed business class products in the sky…on some of its 777-300ERs.
On the rest of its 777-300ERs and all of its 747s, the seat is a far inferior angled lie flat.
Aeroplan lists the plane in the search results. To distinguish between the good and bad 777-300ERs, you will need to do some sleuthing. Their seat maps are quite different with the flat beds being configured 1-2-1 and the angled lie flats 2-2-2.
I tried to do dummy bookings on evaair.com to see if I could get to seat selection and a seat map, but I couldn't figure out a way. The only way I can get a seat map is to check Expert Flyer, a paid service. On Expert Flyer, select Seat Map and input the flight date, cities, and number.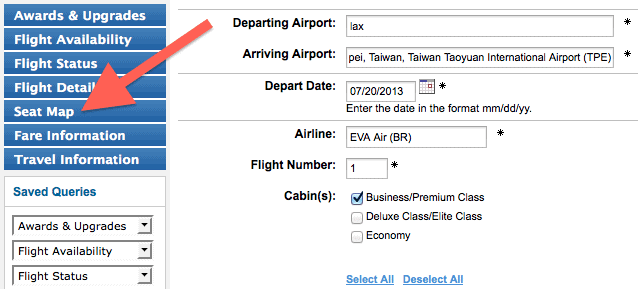 You're hoping to see this 1-2-1 configuration for the flight you've found–indicating the lie flat seats are installed.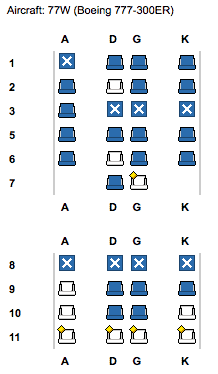 I think all EVA Air flights to Los Angeles and New York have the new business class.
What Miles Should You Use?
Different programs charge different amounts for the same flights, so carefully select which miles to use based on what you have and what the airlines charge. Here are the best options, listed in order.
US Airways: Charges 60k/90k miles in economy/business roundtrip to Taiwan. No one way awards allowed for half price. Charge taxes plus a $50 processing fee. Must be booked by phone. Free oneway only possible if you're creative.
United: Charges 65k/120k miles in economy/business to Taiwan. One way awards are allowed for half price. Charges taxes plus a $25 phone ticketing fee. Must be booked by phone. Free oneway very possible.
Taca/Avianca: Charges 65k/125k miles in economy/business roundtrip to Taiwan. One way awards are allowed for half price. Charges taxes only if booked online.
Aeroplan: Charges 75k/125k miles in economy/business roundtrip to Taiwan. Charges 50k/84k miles in economy/business one way. Charges taxes only if booked online.
Lufthansa: Charges 80k/135k miles in economy/business roundtrip to Taiwan. One way awards are allowed for half price. I don't know whether the fuel surcharge is charged. Must be booked by phone.
United and US Airways never charge fuel surcharges. Lufthansa usually does on awards. I have not called Lufthansa to check whether this award would price with fuel surcharges, but if it does, the surcharge would only be $132. I was surprised to see that Aeroplan is not charging surcharges on EVA awards, since it does on many partners.
Booking
After searching on aeroplan.com, call the airline whose miles you are using to book.
US Airways: 800-622-1015
United: 800-UNITED-1
Taca/Avianca: book online
Aeroplan: book online
Lufthansa: 800-581-6400
Give the agent the flights segment-by-segment including the airports, flight numbers, and cabins. Prepare to explain that EVA is a new member of the Star Alliance based in Taiwan. If you get an agent who is not skilled enough to book the award, hang up and call back.
Getting the Miles
For the time being, US Airways is clearly the best type of miles to use for the award.
US Airways Premier World MasterCard® with 30,000 US Airways miles after first purchase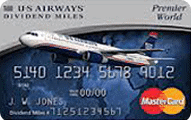 Earn up to 40,000 bonus miles on qualifying transactions
EXCLUSIVE: Redeem flights for 5,000 fewer miles
Zone 2 boarding on every flight
Enjoy 2 miles per $1 spent on US Airways purchases
Earn 1 mile per $1 spent everywhere else
Annual companion certificate good for round-trip travel for up to 2 companions at $99 each, plus taxes and fees
First Class check-in
Please see terms and conditions for complete details
Application Link: Barclay's US Airways Premier World MasterCard
In addition, you can get more US Airways miles by transferring 1:1 from the Starwood Preferred Guest personal and business cards.
Recap
The Star Alliance was already a great alliance for flights from the US to Asia, and the options just got better with the addition of EVA to the alliance. EVA has great award space from six North American cities to Taiwan and beyond.
The cheapest way to fly EVA business class is to use 90k US Airways miles for a roundtrip award from the US to Taiwan.
Application Link: Barclay's US Airways Premier World MasterCard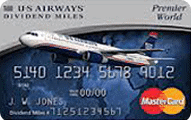 ---
Editorial Disclaimer: The editorial content is not provided or commissioned by the credit card issuers. Opinions expressed here are author's alone, not those of the credit card issuers, and have not been reviewed, approved or otherwise endorsed by the credit card issuers.
If you liked this post, sign up to receive one free daily email every morning with all of the day's posts! You can also follow MileValue on Twitter and Facebook.