I was nervous that free oneways might be eliminated by United upon its new chart taking effect yesterday. There was a cryptic comment on the new award chart that stopovers on certain awards might require extra miles.
Free oneways rely on a stopover at your home airport to pull them off. If certain free stopovers were eliminated, free oneways could have been eliminated with them. For more info on free oneways, see:
Are free oneways still possible on United awards?
As far as I can tell, no stopover rules have changed with the implementation of the new United award charts.
I can still book all the free oneways and cheap oneways I could before.
Newark to Frankfurt Roundtrip with Free Oneway Newark to San Francisco
Here's a classic and simple free oneway: roundtrip from Newark to Frankfurt with a later free oneway from Newark to San Francisco.

Since Newark to Frankfurt roundtrip in economy would cost 60k United miles, and this whole award is only 60k miles, the Newark to San Francisco leg adds zero miles (and only $2.50 in taxes), making it a free oneway.
Newark to Frankfurt Roundtrip with Cheap Oneway Newark to Lima
Sometimes a "cheap oneway" provides more value than a free oneway. On some awards, you can fly an international one way after the main award. It won't cost zero miles like the free oneway within the continental US and Canada, but adding it to a roundtrip award will represent a discount over booking it separately.
Consider Newark to Frankfurt roundtrip in economy with a later cheap oneway to Lima.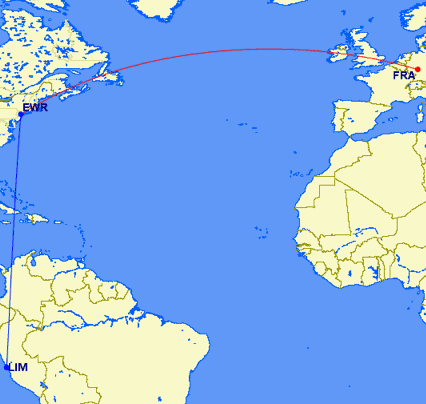 This award prices at 70k miles total.


The price is the sum of a one way award from Newark to Frankfurt (30k) plus one way from Frankfurt to Lima (40k).
If these three segments were booked as one way awards, the total price would be 80k miles (30k to Europe, 30k return, and 20k to Peru). Booking as one award saves 10k miles.
Recap
I was concerned that United stopover rules would change concurrent with the devaluation. They have not.
Free oneways and cheap oneways rely on taking a stopover at your home airport. Since United awards' stopovers are in tact, free oneways are still intact!
Getting United Miles
I'm still bullish on United miles. They're fantastic for economy awards. They're also reasonable for United Business awards, and I consider United Business to be a very comfortable bed with solid food and entertainment options. See reviews here and here. They are no longer valuable for partner first class awards.
There are a lot of options to get United miles. There are United co-branded credit cards. There are also cards that earn Ultimate Rewards like the Sapphire Preferred, Ink Plus, and Ink Bold that allow 1:1 transfers of their Ultimate Rewards to United miles.
---
Editorial Disclaimer: The editorial content is not provided or commissioned by the credit card issuers. Opinions expressed here are author's alone, not those of the credit card issuers, and have not been reviewed, approved or otherwise endorsed by the credit card issuers.
If you liked this post, sign up to receive one free daily email every morning with all of the day's posts! You can also follow MileValue on Twitter and Facebook.