The American Express Platinum personal and business cards come with annual fees of $550 and $450 respectively. But they also come with a litany of valuable benefits that make up for the annual fee, at least for the first year.
Unfortunately many of those benefits are not automatic. In order to get the most out of the card, you need to spend a little time signing up for each one.
All American Express Platinum cards–including the "regular" Platinum, Enhanced Business Platinum, Mercedes-Benz Platinum, and Ameriprise Platinum–receive the following benefits in the first year that you have to activate yourself:
NEW: $200 in Uber credits annually

$500 in airline fee statement credits

Free lounge access

Hotel status

Boingo Wifi Access
Credit card links have been removed from posts and added to the menu bar at the top of every page of MileValue under the heading Top Travel Credit Cards.
$200 in Uber Credits Annually
You'll get $200 in Uber credits every year ($15 a month and $35 in December). What's nice is that you don't actually have to pay for Uber with your Platinum card*. BUT you do need to add your Platinum Card as a payment method within your Uber account, and choose to use the credit for payment before completing the ride. The rest of the reimbursement process will happen automatically.
Credits won't roll over–that is to say if you don't use Uber at all in May, for example, you won't start off the month of June with $30 credit, only $15. Credits are only applied to rides within the United States.
*Note that if you want to earn 2x Membership Rewards per dollar spent on Ubers, you will need to use an eligible Amex card (an American Express Consumer, Small Business or Corporate Card that is issued by in the United States by American Express and enrolled in the Membership Rewards® Program).
$500 in Airline Fee Statement Credits
$200 ($400) Airline Fee Credits

Platinum cards come with a $200 airline fee credit each calendar year. That means in everyone's first year of holding a Platinum card, you can get $400 worth of airline fees credited back to your card.
For instance, I got a Mercedes-Benz Platinum (personal) card in February 2013, so I took advantage of this benefit in 2013 and January 2014 for $400 in statement credits.
The airline fee credit is supposed to be for fees likes change fees, cancellation fees, and bag fees. The fee credit is not supposed to apply to ticket purchases, miles purchases, or gift card purchases.
But American Express's computers decides whether a certain purchase qualifies for a fee credit, and in the experience of thousands of people, certain airline gift card purchases will result in a statement credit. That makes this benefit like getting $400 in free flights, which almost completely offsets the annual fee in one swoop. There is a FlyerTalk thread devoted to each airline that you can select for fee reimbursement for people to post their experiences trying to purchase gift cards.
In order to get the $200 airline fee credit, you have to choose a single airline on which you will receive credits for fees incurred. Designate that airline from the list of eligible airlines here.
It can take a few weeks for the offsetting statement credit to appear–though it usually takes just a few days. If yours doesn't appear after a few weeks, you can call the number on the back of your card or initiate an online chat to get your statement credit.
$100 Global Entry Fee Credit
Platinum card holders are entitled to a $100 statement credit when they pay the $100 Global Entry enrollment fee with their Platinum cards.

Having Global Entry allows you to skip the immigrations and customs queues when arriving in the US. Instead of spending time in line and talking to an agent, you tap a few buttons at a kiosk and get to the curb in a few minutes. Global Entry membership is valid for 5 years. I love Global Entry. And having Global Entry also lets you skip immigration queues in Australia and New Zealand.
There are two steps involved in obtaining Global entry: an application and an interview.
First, you need to fill out the online application.  To do this as efficiently as possible, make sure you have on hand: Proof of Citizenship documents (passport works); your driver's license, if you have one; and both your address and work histories for the past five years. The online application process took me about 30 minutes to complete.
If you have never registered with GOES (the Global Online Entry System), you will be prompted to register when you click the online application link above.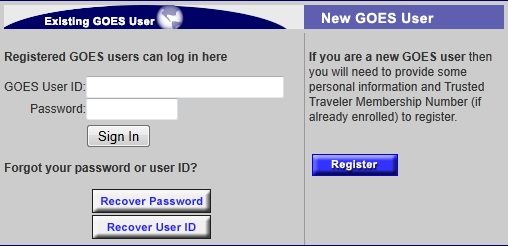 Once you are registered with GOES, log in to the system. You will see that you are not a member of any programs. Click "Enroll in a New Program" to begin your Global Entry application.

Select the link that allows you to start the application for the trusted traveler program.

From here, you will have to fill out a variety of personal information. There are 16 categories of information.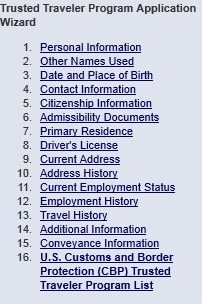 Fill out all the sections and submit your application. You will be prompted to pay the $100 application fee–make sure you use your AMEX Platinum to pay this in order to have the fee credited back to you!
Unfortunately, the GOES system doesn't email you when your application is approved or denied. I set a reminder in my calendar to check on the status of my application in a week. Once your application is approved, you can use the GOES system to schedule your in-person interview, which will take place at any airport that participates in the Global Entry program.
Free Lounge Access
You can get free lounge access at Delta Sky Clubs by showing your American Express Platinum Card and boarding pass–no set up required! You also get free access to American Express Centurion Lounges, which are the nicest domestic lounges, as well as International American Express lounges and Airspace lounges.
You can get even better lounge coverage–especially internationally–by signing up for a free Priority Pass Select membership to complement the automatic free lounge access.
Priority Pass Select
Priority Pass is the world's largest independent airport lounge access program. Platinum Card holders get free Priority Pass Select membership, which entitles them and up to two guests to free access to hundreds of lounges worldwide (everything on the list except United Clubs).
Sign up for your free Priority Pass Select account here. I received my shiny black and gold Priority Pass card in the mail only 5 days after I called.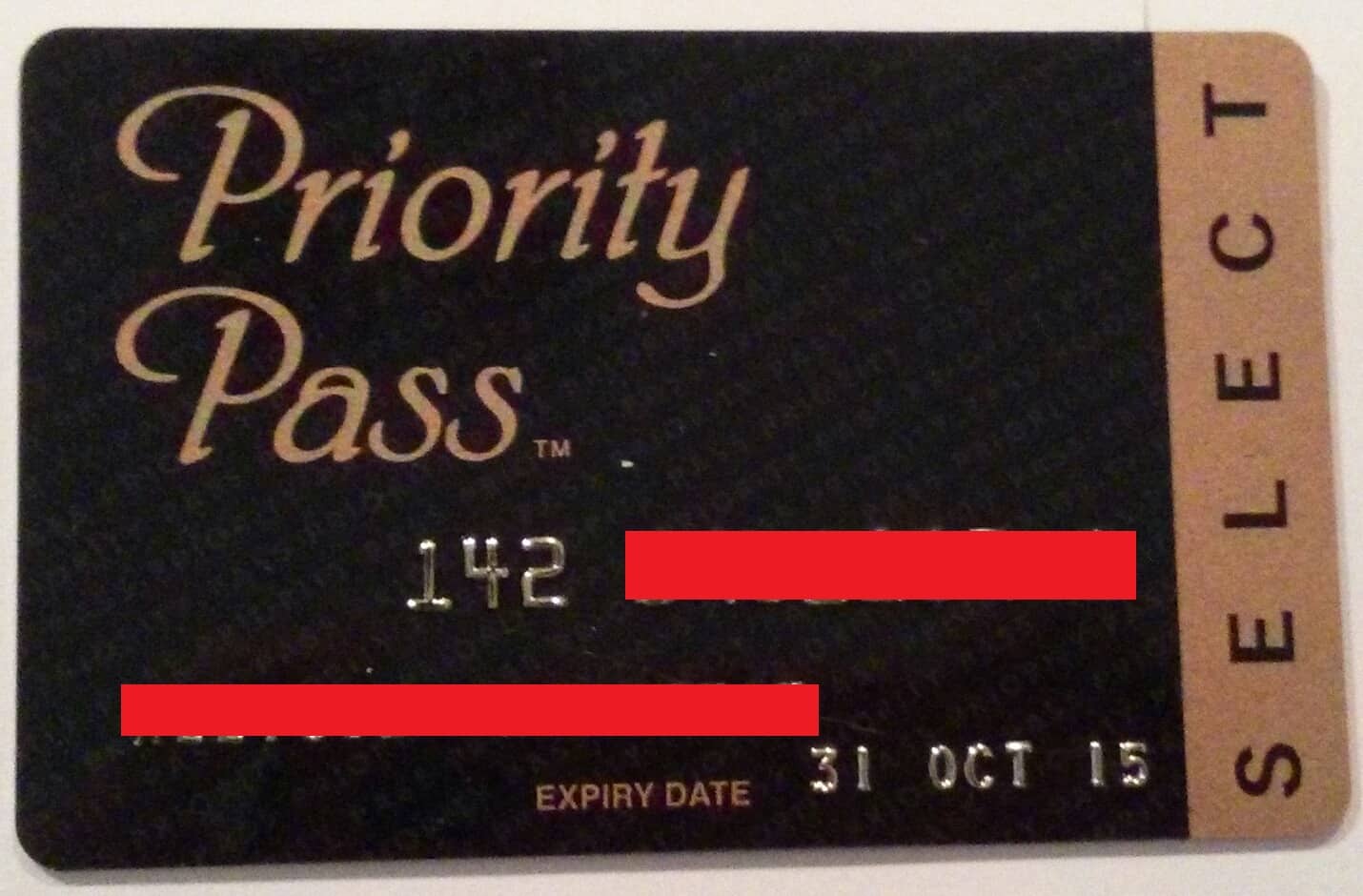 This card has to be shown and swiped at participating Priority Pass Select lounges. I downloaded the app on my phone, so I can search for participating lounges by airport while I travel.
There's more information about this benefit here.
Hotel Status
Starwood Preferred Guest Gold Status
Platinum Card holders are entitled to free Gold status in the Starwood Preferred Guest program, which entitles you to all of the following benefits at SPG participating hotels:
Call the number on the back of your card to get free SPG Gold Status. You will be transferred to an SPG agent who can even create a new SPG account for you and give it Gold Status.
According to a commenter on this post, if you already have SPG status you can gift this benefit to someone so it doesn't go to waste. If anyone has experience with this let us know in the comments.
Hilton Gold Status
To get Hilton Gold Status, click this link.
Enter your Hilton number, and you will get a pop up saying the status should appear in 72 hours.
If you have additional cardholders, they can get Hilton Gold Status too, just not online.

Hilton Gold Status entitles you to better rooms, late checkout, more points, and other freebies. Click here for all the benefits of Hilton Gold.
Boingo Wifi Access
Amex Platinum cardholders get a free access to Boingo Wifi (with more than a million hotspots around the world). First you must authenticate your card to activate your Boingo American Express Preferred Plan.
Next follow the prompts to create an account.
Recap
The American Express Platinum cards come with big annual fees, but even bigger benefits. The benefits require a little bit of work to set up: a phone call, some gift card purchases, and a Global Entry application. But setting up and enjoying your benefits is easy.
Call American Express at the number on the back of your AMEX card:
Designate an airline to receive your $200 annual (calendar year) airline fee credit (or enroll online).
Ask to be enrolled in Priority Pass Select (or enroll online).
Ask to be given Gold status with Starwood Preferred Guest. You will be transferred to SPG.
Add your Platinum Card as a payment method within your Uber account.
Get Hilton Gold Status and authenticate your card and create a Boingo account online.
Buy gift cards with your AMEX Platinum on the airline you designated that will be reimbursed by the airline fee credit. Then use those gift cards for free flights.
Apply for Global Entry, paying the fee with your AMEX Platinum. Then enjoy plane-to-curb times under ten minutes on international flights.
There are even more benefits of holding a Platinum Card–many more than would fit here, and most of little use for the majority of people. For a complete list including benefits at Neiman Marcus, Equinox Fitness Clubs, car rental agencies, and more, see here.
For me, a ten minute phone call was the easier way to enroll in these benefits. If you prefer not to speak to an agent, you can enroll for most benefits online here.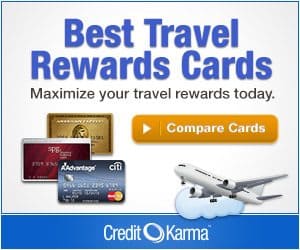 ---
Editorial Disclaimer: The editorial content is not provided or commissioned by the credit card issuers. Opinions expressed here are author's alone, not those of the credit card issuers, and have not been reviewed, approved or otherwise endorsed by the credit card issuers.
The comments section below is not provided or commissioned by the bank advertiser. Responses have not been reviewed, approved, or otherwise endorsed by the bank advertiser. It is not the bank advertiser's responsibility to ensure all questions are answered.
If you liked this post, sign up to receive one free daily email every morning with all of the day's posts! You can also follow MileValue on Twitter and Facebook.